The Philippines Department of Justice has filed a criminal case against Senator Leila de Lima on Wednesday, 21 December, for allegedly ignoring the summons from the parliamentary committee and subcommittees. The department also accused her of obstruction of justice by stopping her former driver from testifying in front of a panel probing illegal drug trade inside a prison facility.
De Lima's indictment comes amid a fresh round of verbal spats between her and President Rodrigo Duterte, who she had accused of extra judicial killings on the pretext of his drug war. She said the president should put his own name on the top of his drug list for admitting his addiction to the drug fentanyl.
"At least I, whom he recklessly and wrongly accuses as a narco-politician, haven't taken a single addictive drug in my life, while he who runs amok and froths in the mouth like a rabid animal has the temerity to make up a list, when he should be on the top of that list," the Inquirer quoted her as saying in response to the latest Duterte tirade against her.
The president had accused De Lima of having an illicit relationship with her former driver Ronnie Dayan, calling her an "immoral woman". He had also accused the two of being involved in an illegal drug trade inside the New Bilibid Prison and receiving drug money from narco traders.
The justice department's case against her is reportedly based on a recent complaint filed by House of Representatives leaders, including House Speaker Pantaleon Alvarez, who alleged the Senator ignored summons for a Congressional inquiry on the proliferation of illegal drugs inside the New Bilibid Prison.
"Respondent opted to ignore all invitations and failed to attend any of the hearings conducted by the Committee," the complaint filed on 15 December stated, the Inquirer reported.
"Worse, respondent even insulted the House of Representative by calling its Committee a kangaroo court/committee and its proceedings a sham."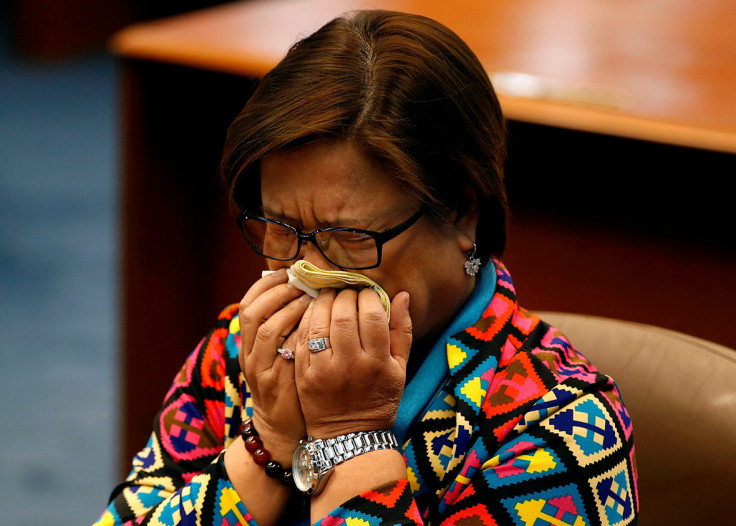 The summons were issued for hearings dated 20 and 21 September and 5 and 6 October, the Philippines Star reported. Based on the complaint and revelation by her driver during a senate hearing that she instructed him not to appear before a hearing committee, the justice department passed a resolution on filing a criminal case against the senator on 15 December.
"Based on the foregoing, we find probable cause to charge the respondent of violation of Article 150 of the Revised Penal Code," the resolution reportedly read. It added: "Wherefore it is respectfully recommended that this resolution be approved and the corresponding information be filed before the court."
The authorities are not expected to serve a warrant against her, given the nature of the offence, the PhilStar reported, adding that if found guilty, she could face a fine and a jail term of up to six months.