President of the Philippines Rodrigo Duterte has said he wants to foster closer ties with Russia and China – the US's closest rivals – following a series of pointed and foul-mouthed outbursts against the US, the UN, Barrack Obama and other US officials.
Duterte, who has been criticised by the US for his ongoing drug war, which has seen hundreds killed by vigilante gangs and in extrajudicial police executions, said he wanted to open the doors to new relationships with China and Russia.
The controversial Filippino leader said the country was at the "point of no return" in its relations the US, adding he would meet Russian Prime Minister Dmitry Medvedev shortly in Moscow.
"I am ready to not really break [US] ties but we will open alliances with China and... Medvedev, he is awaiting there for my visit," Duterte told reporters, adding he would open up the "other side of the ideological barrier".
However, Duterte has appeared to relish sparring with the US on the international stage, the Philippines' longest-standing military ally. The Filipino leader called both US President Barack Obama and his ambassador to Manila a "son of a bitch" ahead of a scheduled summit between the two leaders. Obama cancelled the meeting.
Duterte has also hit out at the United Nations, calling the international organisation a "son of a whore" and saying he would unilaterally withdraw the Philippines from the UN. At the time he said he would pursue closer diplomatic relations with China and African nations, calling on countries to form a rival international organisation.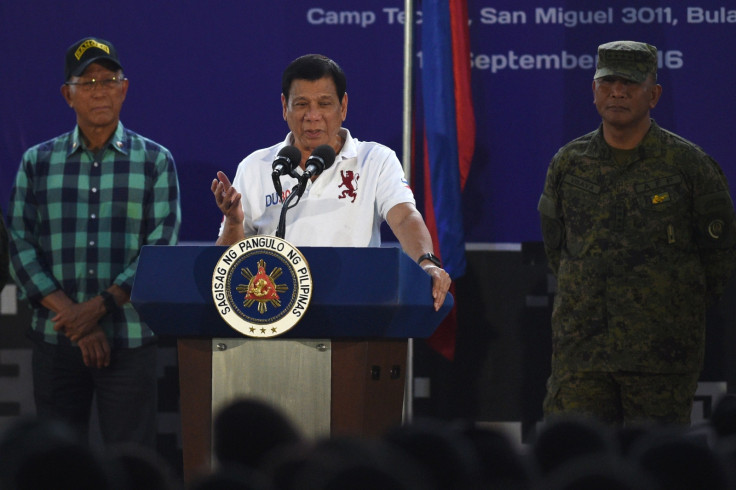 The Filippino leader has said he would like to visit Beijing regularly despite a current standoff in the South China Sea and a recent ruling in a territorial dispute in the favour of Manila.
Finally, it is not clear to what extent Duterte's rhetoric will affect relations with the US. The Militaries of both sides are due to carry out joint exercises in the first half of October.