The Philippines will not lodge any formal protest against China's military installations on the disputed Spratly Islands in the South China Sea, the country's foreign minister said on Friday, 16 December. A US think tank reported earlier in the week about satellite images showing Beijing's deployment of anti-aircraft and anti-missile systems on the artificial islets.
Foreign Minister Perfecto Yasay said they do not want to take any action against China that could threaten their improving bilateral relations. He added that their government will refrain from intervening in matters concerning China's national interests.
"Let them take whatever action is necessary in the pursuit of their national interest... and we will leave it at that, for the Philippines, we have our bilateral engagements with China," Yasay said while speaking to reporters in Singapore.
"We will make sure that there will be no further actions that will heighten the tensions between the two countries, particularly in the Scarborough Shoal.
"We cannot stop China... there is nothing that we can do about that now," he added.
The Scarborough Shoal, which is referred to as Panatag Shoal in the Philippines, has been a crucial issue in the South China Sea territorial dispute. Both China and the Philippines claimed sovereign rights over the reef, but the former restricted access to Filipino fishermen since taking control of the reef in 2012. The restriction prompted the then Philippine government to file a case in the international court of arbitration in The Hague, which ruled in July that China's claims were "illegal".
The court ruling angered China, which declined to abide by the arbitrary court's decision, stoking further tensions with the Philippines. However, recent efforts by Philippines President Rodrigo Duterte eased those tensions, resulting in Filipino fishermen regaining access to the waters.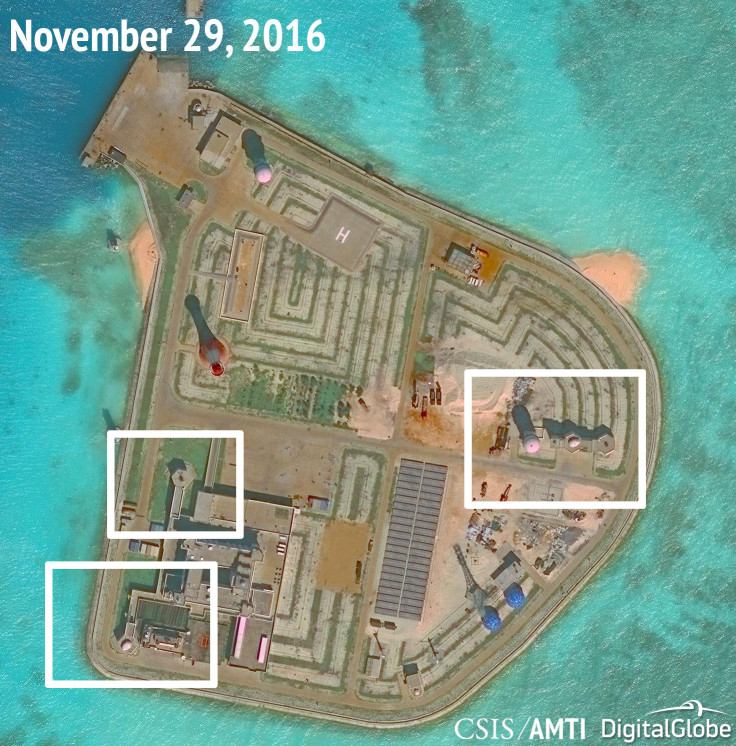 Yasay acknowledged that improved ties with Beijing had paid off for Filipino fishermen, who can now fish around the resource-rich waters, Reuters reported.
The Spratly Islands are also part of the maritime dispute between China and the Philippines, with several other neighbouring countries like Myanmar and Taiwan also claiming their rights over the group of islands.
US think tank, the Asia Maritime Transparency Initiative (AMTI), reportedly said a few days ago that it has been monitoring hexagon-shaped buildings on four of the seven islands that make up the Spratly Islands. The agency said those appear to be anti-aircraft and anti-missile systems China is building on the artificial islets.