Beijing is believed to have positioned anti-aircraft and anti-missile systems on the artificial islands in the South China Sea. Satellite images from a US think tank show the defence systems against cruise missile strikes on all the seven artificial islands built by China.
The Asia Maritime Transparency Initiative (AMTI) said it has been monitoring hexagon-shaped buildings on four of the seven islands for several months. The agency added that new systems are also being installed by the Chinese.
The reported installations have been made despite Chinese President Xi Jinping's pledge that Beijing would not militarise the islands in the Spratly archipelago over which several countries stake claims. China's rapid expansion in the region over the last three years has ruffled the feathers of not just the US but also Washington's allies.
The AMTI report, published on its website, reads: "These gun and probable CIWS emplacements show that Beijing is serious about [the] defence of its artificial islands in case of an armed contingency in the South China Sea."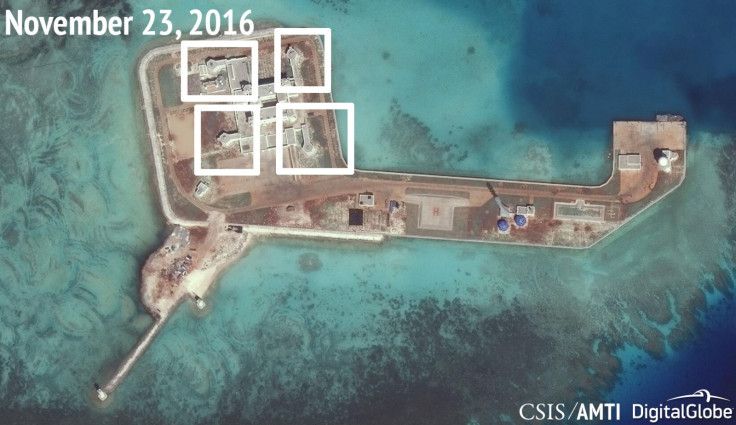 "Among other things, they would be the last line of defence against cruise missiles launched by the United States or others against these soon-to-be-operational air bases."
Some of the structures on the islands are buried in order to protect them from enemy strikes. The US group, which is run by the Center for Strategic and International Studies in Washington, had warned that the Chinese forces could deploy fighter jets and missiles on the disputed islands anytime it wants.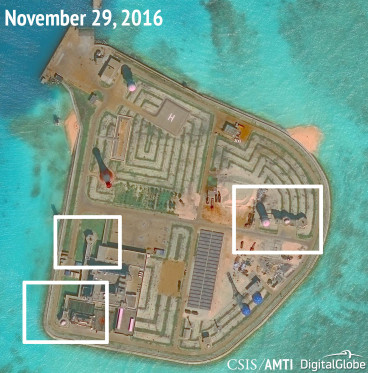 Beijing has already built long runways on the islands for military jets to land. AMTI's director Greg Poling told Reuters: "This is militarisation. The Chinese can argue that it's only for defensive purposes, but if you are building [a] giant anti-aircraft gun and CIWS [close-in weapons systems] emplacements, it means that you are prepping for a future conflict. They keep saying they are not militarising, but they could deploy fighter jets and surface-to-air missiles tomorrow if they wanted to. Now they have all the infrastructure in place for these interlocking rings of defence and power projection."
Beijing now has air bases, naval installations and radar and communication systems on the chain of islands. Neither the Chinese defence ministry nor the foreign ministry has as yet responded to the think tank's findings.
Beijing claims almost the whole of the South China Sea, along with its mineral-rich islands and reefs. Several nations such as Malaysia, Brunei, the Philippines and Vietnam also have overlapping claims.