Philippines: Pope Francis's Tacloban visit cut short by tropical storm Mekkhala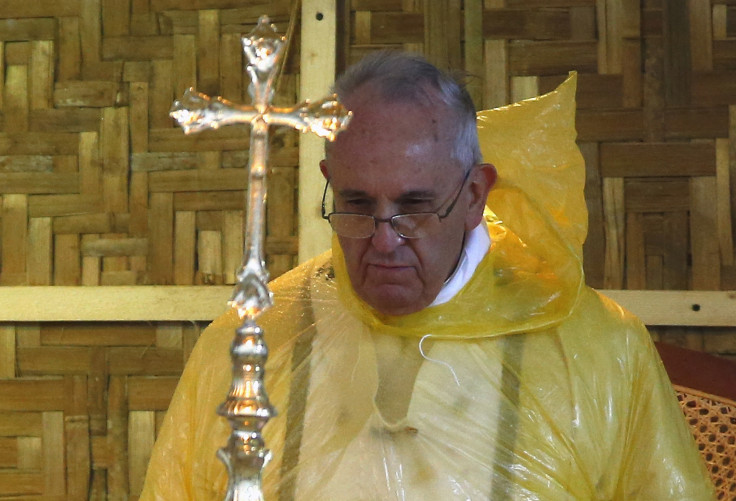 Thousands of worshippers gathered to celebrate Mass with Pope Francis in the city of Tacloban, devastated by Typhoon Haiyan in 2013, but the Pontiff had to cut short his visit due to the arrival of Tropical Storm Mekkhala.
Over 6,300 died and thousands of others remain unaccounted for when Typhoon Haiyan devastated the province on 8 November 2013, also leaving one million people homeless. Wearing a plastic poncho, Pope Francis led mass at Tacloban's main cathedral.
"Many of you have asked the Lord, 'Why?'" he said. "And to each of you the Lord is responding to your hearts from his heart ... so many of you have lost everything. I don't know what to say to you but the Lord does know what to say to you."
The Pope was due to have lunch with survivors of Haiyan after the Mass but was forced to leave four hours ahead of schedule before Mekkhala got worse.
"I am sad about this, truly saddened, because I had something prepared especially for you," Pope Francis told the crowd. Pilots had urged him to leave while it was still possible, he said. "We barely have time to get to the aeroplane."
Following the departure of the Pope a 21-year-old woman volunteer was killed when scaffolding supporting a speaker collapsed near the altar.
Pope Francis had vowed to visit Leyte province when first hearing about Haiyan. Before flying out of the province he held a short impromptu mass for survivors gathered near the airport, saying: "I felt that I had to be here ... I am here to be with you, perhaps a little late, I have to say, but I am here."
Thousands of people were stranded on the island due to 80mph winds and a plane carrying senior Filipino politicians overshot Tacloban runway shortly after the Pope left for Manila. No-one was injured.
The Philippines has over 80 million Roman Catholics. On Sunday millions of worshippers are expected as Pope Francis leads mass in the capital, Manila.
© Copyright IBTimes 2023. All rights reserved.