Philippines president-elect Rodrigo Duterte has apologised to Canadian Prime Minister Justin Trudeau over the beheading of a Canadian national by a militant group based in the Philippines and assured that such incidents will not be allowed to happen again.
The 71-year-old former mayor of Davao told reporters in the port city that he offered his apologies when the prime minister called him to congratulate him on his victory.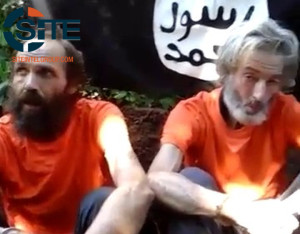 Duterte's victory in the 9 May election is not yet formal, but an official vote count shows him as the presumptive president-elect with six million more votes than his closest rival.
The BBC quoted Duterte as saying at a press conference: "We will try our very best and see to it that nothing of this sort will happen again, and you can rest assured that when the time comes, we will be able to apprehend the criminals and exact justice."
He added that he had discussed human rights issues with Trudeau and assured him of upholding them. "Universal Declaration of Human rights, fine, I said 'I'm following it, but Mr Prime Minister, with few exceptions.'" Duterte has in the past been criticised for his ignoring human rights.
Canadian national John Ridsdel was beheaded by Islamist militant group Abu Sayyaf on 25 April in Sulu in the Philippines after they failed to extract a ransom of 300 million pesos (£4.4m, $6.4m) from the Canadian government.
Condemning the killing, Trudeau had vowed not to surrender to the ransom demands of the militants who have three more hostages - another Canadian national Robert Hall, Filipino woman Marites Flor and Norwegian Kjartan Sekkingstad. They were all taken hostage in September 2015 and the militants have threatened to kill them.
The beheading of Ridsel, a former journalist, saw the Philippine military launch a strike against the militants in which more than a dozen Islamists are believed to have been killed.