Philippines President Rodrigo Duterte has voiced his severe criticism of the US and Barack Obama over the past weeks and now, has announced that he wants to sever ties and align his country with China and Russia instead.
In a speech before an economic forum at the Great Hall of the People in Beijing, on 20 October, the country's leader agreed to resume discussions regarding the South China Sea territorial dispute. "Your honours, in this venue, I announce my separation from the United States," Duterte said. "Both in military... not maybe social, but economics also, America has lost."
Speaking before a crowd of around 200 business people, he added, "There are three of us against the world — China, Philippines and Russia. It's the only way."
Duterte first hinted at his plans to distance the Philippines from the US while addressing the Filipino community in Beijing on 19 October. "I will not go to America anymore. We will just be insulted there. So time to say goodbye my friend," he said.
His plans if implemented could have far reaching effects, especially in the Philippines. When questioned about the president's statements, US State Department spokesman John Kirby said the American government was "baffled".
"It's not clear what [the separation] means in all its ramifications," Kirby said, adding that the State Department was not too worried about it since the two countries have had an alliance "some 70 years old [that] has weathered all kinds of storms".
"We remain rock solid in our commitment in the mutual defense treaty that we have with the Philippines," he said.
The White House echoed the same response. "We have not received any official requests from Filipino officials to alter any of our many issues where we bilaterally cooperate," their spokesman Eric Schultz said.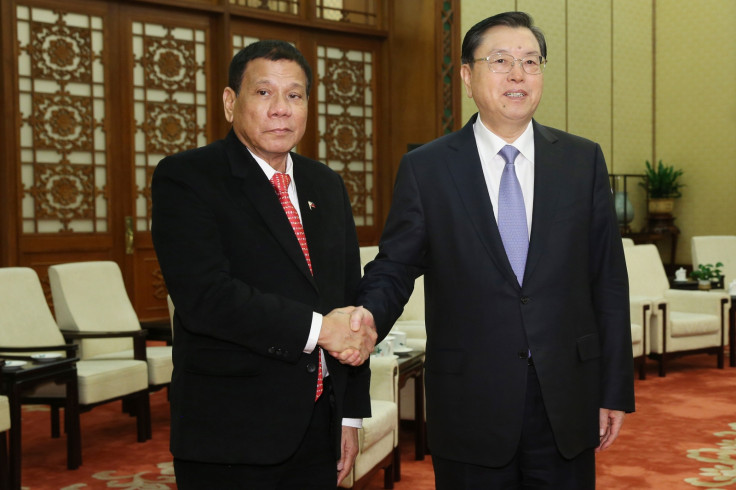 Aside from the South China Sea talks, which reportedly made up only a brief portion of the meeting between Duterte and China's Xi Jinping, the Philippines Trade Secretary Ramon Lopez announced that the two countries would sign deals worth $13.5bn (£11.3bn) in the coming days.
On 21 October, the Philippines government released a statement telling the public to wait for guidelines before interpreting Duterte's announcement.
"There is no rush for us to interpret the speech of the president as we have to wait for guidelines that would be coming from him, from the Department of Foreign Affairs as soon as they come back," said Maria Banaag, assistant secretary at the presidential communications office.