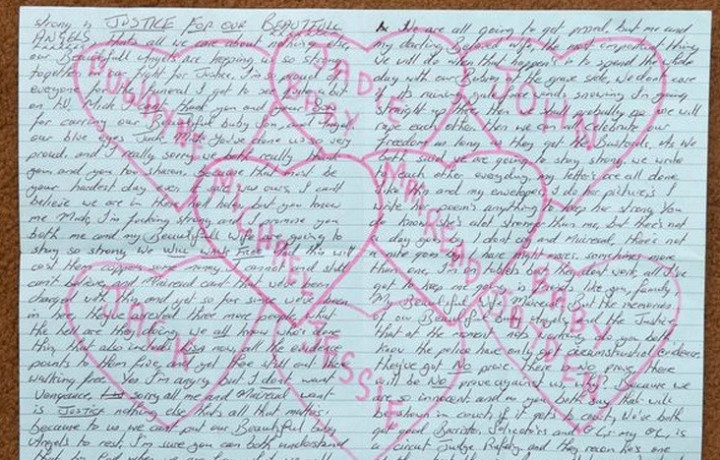 Killer Mick Philpott wrote a rambling letter detailing his wish to "rape" his wife by the graves of his six children whom he burned to death.
Philpott even titled the handwritten note "Justice for our beautiful angels" and scrawled hearts containing the names of each of his young victims on to the page.
Describing the moment when he set eyes on the charred, blackened remains of his daughter Jade, Philpott labelled her "my little golliwog."
Philpott was jailed for life at Nottingham Crown Court for starting the fire at the family home.
His wife, Mairead, and family friend Paul Mosley were jailed for 17 years each.
Jade, John, Jack, Jesse and Jayden all died in their beds in the blaze in May 2012. Duwayne, 13, died in hospital from his wounds three days later.
Amid emotional scenes in court, a sneering Philpott delivered a two-fingered salute to the public gallery as he was sent down.
Writing to a friend from Wakefield jail ahead of his trial, Philpott spoke of his plans to party after the trial.
"God, when we are free, which we will be, we're all going to get p****d," he told Mick Russell
"But me and my darling beloved wife, the most important thing that we will do when this happens is to spend the whole day with our babies, at the graveside.
"We don't care if it's raining, gale force winds, snowing, I'm going straight up there.
"Then we shall probably, no, we will, rape each other. Then we can all ­celebrate our freedom as long as they get the b******s."
Russell and wife Sharon have disowned Philpott.
In the letter, Philpott inisted he wanted justice for his dead children. At his trial, he was told by the judge that neither he or his co-defendants had any "moral compass."
"All we care about is justice for our beautiful angels," wrote Philpott in the letter.
"They are keeping us so strong together. We will walk free and this will cost them coppers some money.
"I can't believe we are in these hellholes but you know me I'm f******g strong and I promise you both me and my beautiful wife are going to stay strong.
"WE WILL WALK FREE. What the hell are they doing? We all know who's done this.
"Them dirty b******s took away our pride and joys, they took away our most precious sweet ­beautiful baby angels.
"They've taken everything me and Mairead dreamed of and made real."
On This Morning, Russell said how betrayed he felt by Philpott.
"I just can't believe how he's conned me. I am embarrassed I ever stood up for him," he said.