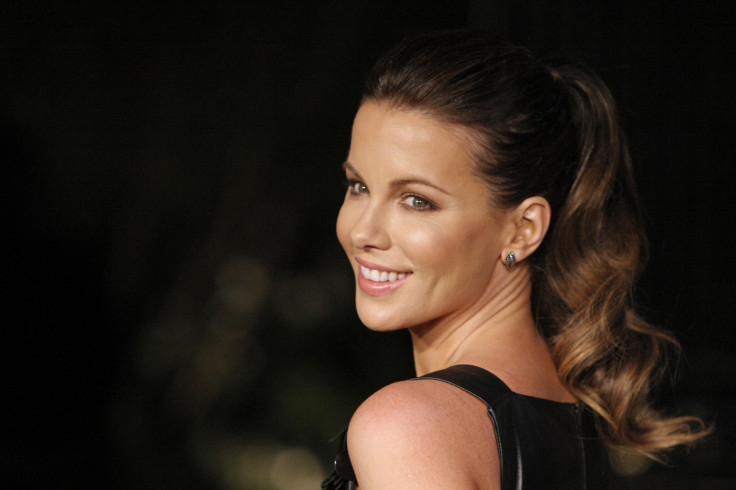 A number of celebrities have taken to social media to share photos of themselves in racy Santa outfits in the past two weeks. Kate Beckinsale was added to the list after the actress took to Instagram to post a sultry snap in which she is seen flaunting her slender figure in a sexy Santa ensemble.
Beckinsale oozes plenty of sex appeal in the outfit that comprised a red hat and a short red jacket with fur running around the trims. She is also seen wearing a Santa cap.
The Underworld star shows off plenty of skin as the unbuttoned jacket parts ways to reveal her toned belly. Looking at the camera with her piercing eyes, the 44-year-old actress also flaunts her slender legs in a skimpy red lingerie.
Beckinsale commented about her look, saying she dresses in Santa-inspired outfits on Christmas Eve every year.
"Very much how I look Christmas Eve. (Except for being covered in tape and glitter, pouring sweat wrapping all the gifts, possibly smelling like a cornered badger and wondering what the Americans will make of Jude's trifle.) So not really like this at all. Merry Christmas to all of you thanks, @foleyentertainment," the mother of one wrote next to the picture she shared with her fans on the photo-and-video-sharing application.
The image, which has received more than 98,000 likes as of writing this article, has sparked a fan frenzy, with many calling Beckinsale "perfect" and "gorgeous".
"You are so perfect Kate Beckinsale," a fan gushed, while another added, "Now that's a Mrs Claus you would want... both Naughty and Nice Merry Christmas Kate."
"This photo of you should be a poster that we could all buy. Just don't include the part about 'possibly smelling like a badger'. Lol... You're gorgeous and we love to see you in everything. Merry Christmas to you and your family," someone else said as another admirer wrote, "I must be going blind or maybe you're so blindingly gorgeous."
Beckinsale is married to director and screenwriter Len Wiseman since 2004. She shares an 18-year-old daughter named Lily Mo Sheen with actor Michael Sheen, who she was in a relationship between 1995 to 2003.