Thousands of people have been left homeless by the earthquake that flattened medieval hilltop villages in central Italy. Some of the worst hit buildings suffered more cracks after a 4.8-magnitude aftershock struck this morning (25 August) at 6.28am. Photos show holes punched through walls, with ceilings collapsed onto beds. Bathroom fittings and family photos are on display as entire facades collapsed, leaving buildings looking like dolls' houses.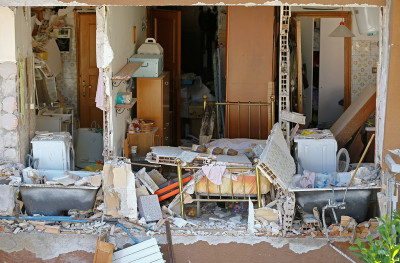 Across the area, thousands were forced to abandon their homes, either because they were destroyed or were determined to be too unsafe. Overnight some 2,100 slept in tent camps, nearly 1,000 more than the first night in a sign that a significant number have found nowhere else to go.
The number of people killed in the earthquake rose to 267 as rescue workers pulled more bodies from mounds of debris. Firefighters and rescue crews using sniffer dogs have been working in teams around the hard-hit areas, pulling chunks of cement, rock and metal from mounds of rubble where homes once stood.
Aerial video taken by drones showed swathes of Amatrice, last year voted one of Italy's most beautiful historic towns, completely flattened. The nearby towns of Pescara del Tronto, Arquata del Tronto and Accumoli fared little better.
Prime Minister Matteo Renzi promised to rebuild the shattered houses and said he would renew efforts to bolster Italy's flimsy defences against earthquakes that regularly batter the country. He authorised a preliminary €50 million (£42.6m) in emergency funding and the government cancelled taxes for residents.
Renzi announced a new initiative, "Italian Homes," to answer years of criticism over shoddy construction across the country, which has the highest seismic activity in Western Europe. However, he also said that it was "absurd" to think that Italy could build completely quake-proof buildings. "It's illusory to think you can control everything," he told a news conference. "It's difficult to imagine it could have been avoided simply using different building technology. We're talking about medieval-era towns."
Compounding the problem, many of the oldest and most vulnerable structures are in remote villages inhabited mostly by retired Italians getting by on pensions with no cash to spare.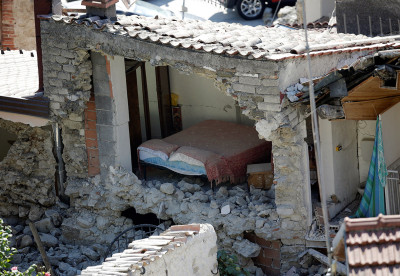 Italy has a poor record of rebuilding after quakes. About 8,300 people who were forced to leave their houses after a deadly earthquake in L'Aquila in 2009 are still living in temporary accommodation. Most of the buildings in the area were built hundreds of years ago, long before any anti-seismic building norms were introduced.
Cultural Minister Dario Franceschini said all 293 culturally important sites, many of them churches, had either collapsed or been seriously damaged.
Major earthquakes in Italy are often followed by criminal charges being filed against architects, builders and officials responsible for public works. In the case of the L'Aquila quake, prosecutors also put six geologists on trial for allegedly failing to adequately warn residents about the quake. Their convictions were overturned on appeal.
Italy sits on two fault lines, making it one of the most seismically active countries in Europe.