Kenyan police fired tear gas and water cannon – and live rounds – at stone-throwing protesters in opposition areas as the country held its second presidential election since August. Polling stations didn't open in many areas after Kenya's opposition leader urged his followers to boycott the vote. Violence erupted in the slums of Nairobi and in the city of Kisumu, home to many supporters of opposition leader Raila Odinga and his National Super Alliance (NASA) coalition.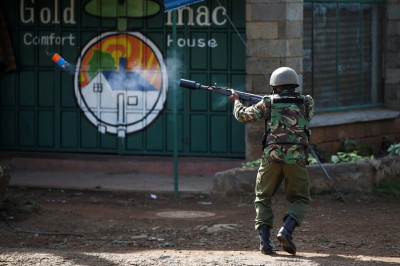 One man was shot dead and three others injured as opposition supporters tried to stop the election in Kisumu, a nurse at the main government hospital said.
"A young man, aged 17 or 18, was brought in heavily bleeding. We were giving him blood but he succumbed," said Henry Omosa, head nurse for casualty unit. The young man was one of four people admitted to the hospital with gunshot wounds that occurred during clashes between police and protesters, he said.
An Associated Press journalist in Kisumu saw ambulances transporting several people from the protests.
Kisumu's constituency returning officer John Ngutai said no voting materials had been distributed and only three of his 400 staff had turned up. One nervous official described his election work as a "suicide mission". Kisumu was also the scene of major ethnic violence after a disputed election in 2007.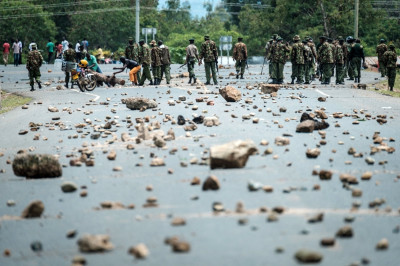 Voting in the Mathare and Kibera slums of Nairobi was interrupted when protesters barricaded roads leading to polling stations as they engaged police with running battles. Police were forced to fire tear gas to disperse the protesters.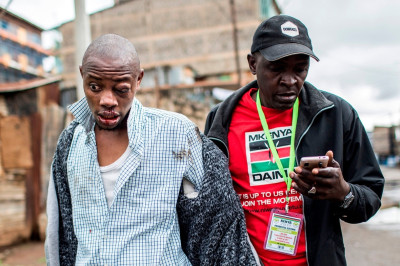 Voting, meanwhile, proceeded in areas where President Uhuru Kenyatta has support, but fewer voters turned out in comparison to the August election that the Supreme Court nullified because it found illegalities and irregularities in the election process.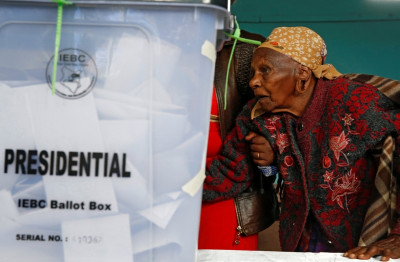 Kenyatta voted in his hometown of Gatundu, and said that 90 percent of the country is calm and that he will work to unify the country if he is re-elected. He told reporters that Kenya must remove ethnic loyalties from its politics in order to succeed. "What we have is a problem of tribalism, and tribalism is an issue that we must continue to deal with and fight with as we continue to develop our country," Kenyatta said. "We cannot achieve our goals if we continue to embark on tribalistic politics."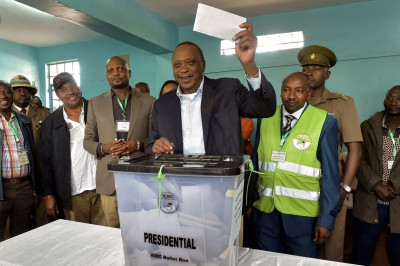 Many observers say Kenya's ethnic-based politics overshadow the promise of its democracy. Kenyatta is from the Kikuyu group, while Odinga is a Luo.
Odinga's NASA coalition is likely to argue that the lack of open polling stations shows that the re-run is bogus. The head of the election commission said last week he could not guarantee a free and fair vote, citing interference from politicians and threats of violence against his colleagues. One election commissioner has quit and fled the country. If some counties fail to hold elections, it could trigger legal challenges to the run-off and could stir longer-term instability in a country riven by deep ethnic divisions.
On Wednesday (25 October), the Supreme Court was due to hear a case seeking to delay the polls, but was unable to sit after five out of the seven judges failed to show up. "The lack of a quorum is highly unusual for a Supreme Court hearing and has raised serious questions among Kenyan stakeholders, including about possible political interference," a statement from the European Union said. "Not hearing this case has de facto cut off the legal path for remedy."
The driver for the court's deputy chief justice was shot and wounded on Tuesday evening, raising fears about intimidation of the judiciary.
Amnesty International and Human Rights Watch said as many as 67 people died in violence across Kenya after Kenyatta's re-election was announced.