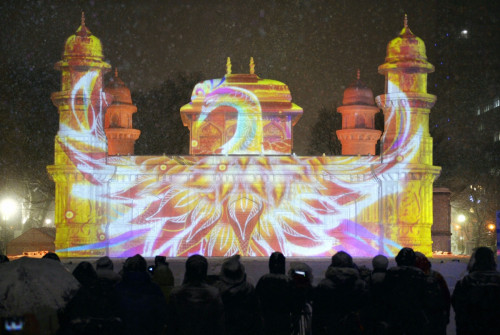 The annual snow festival in Sapporo, on Japan's northern island of Hokkaido, has begun.
The seven-day festival, currently in its 65th edition, runs in Odori Park until 11 February and is one of the biggest winter events in Japan.
The first day of the festival saw several internationally themed snow sculptures, including one made on Sochi Winter Olympics.
Ahead of the Olympics, artists have also made a 15-meter-high figure of skaters and ice hockey players.
The 2014 Sapporo snow festival features a total 198 snow and ice sculptures, including sculptures of historic buildings in Malaysia and India.
A huge tourist drawer in Japan, the festival is visited by about two million people every year. Last year, the festival attracted 2.36 million visitors, according to the festival's official website.
The festival has three sites - Odori Park, where the sculptures are on display; the Community Dome Tsudome that consists of a snow-rafting area and other fun attractions; and the Susukino where events and contests take place.
History
The first Sapporo snow show in 1950 included six snow sculptures by local high school students that attracted thousands of visitors. This success apparently led to the event becoming an annual feature.
The show went national from local in 1959 when 2,500 people took part in the festival.
However, the show got international fame only in 1972 when Sapporo hosted the Winter Olympic Games. The Olympics gave the festival instant international coverage.
Scroll down to view some of the stunning ice and snow sculptures on show at Sapporo snow festival 2014.