The streets of Caracas and many other cities across Venezuela are shuttered and silent during a 24-hour strike called by foes of President Nicolas Maduro to demand a presidential election and the abandonment of a plan for a new congress they fear would institute dictatorship.
In scattered clashes, security forces fired tear gas at protesters manning barricades. Youths shot fireworks back at the police.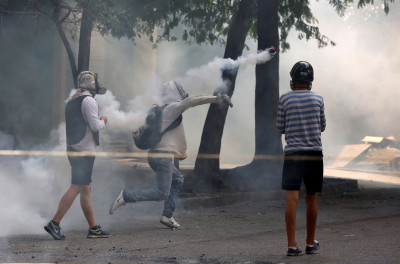 Nearly all bus traffic and other public transport has shut down, and thousands of private businesses defied government demands to stay open. State-run firms are open, though many are short on staff after employees failed to appear. Improvised roadblocks have closed many streets. Students and activists have cut down trees and dragged rubbish and furniture into the streets to form barricades.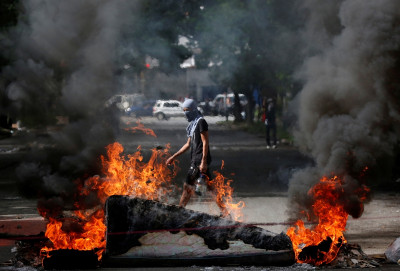 Some Venezuelans grumbled the opposition action would cost them money and prevent them seeking food at a time of extreme economic crisis and hardship. "How can I eat if I don't work?" said Jose Ramon, 50, chopping bananas and watermelon at his fruit stall in a market in the Catia district. With Venezuela already brimming with shuttered stores and factories amid a blistering four-year recession, even a successful strike would have limited financial impact.
Leaders of Venezuela's 2.8 million public employees said state businesses and ministries remained open. "I'm on strike 'in my heart' because if we don't turn up, they will fire us," a 51-year-old engineer at state steel plant Sidor in southern Bolivar state, told AP as she waited at dawn for transport provided by her company.
No disruptions were expected at oil company PDVSA which brings in 95 percent of Venezuela's export revenue. "The Constituent Assembly is going ahead!" PDVSA president Eulogio Del Pino said on state TV, surrounded by red-shirted oil workers in Monagas state chanting "they will not return" in reference to opposition aspirations to take power.
The 24-hour strike was meant as an expression of national disapproval of Maduro's plan to convene a constitutional assembly that would reshape the Venezuelan system to consolidate the ruling party's power over the few institutions that remain outside its control. The opposition is boycotting a 30 July election to select members of the assembly.
Four months of anti-government unrest have killed about 100 people, injured thousands, left hundreds in jail and further damaged an economy in its fourth year of a debilitating decline. Clashes have occurred daily since the opposition Democratic Unity coalition and a self-styled youth-led "Resistance" movement took to the streets in April.