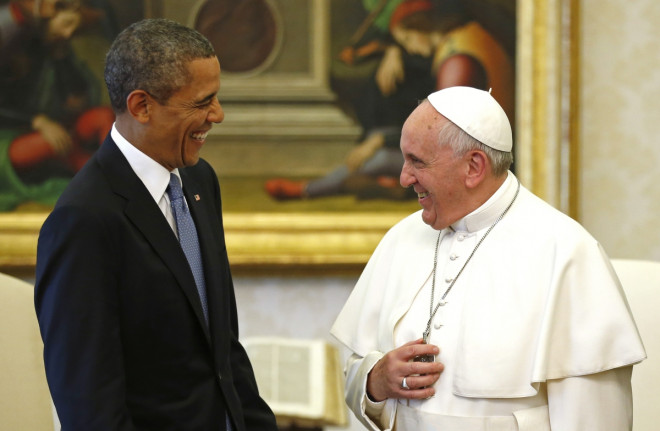 It was billed as the meeting between two heavyweights. One, the most powerful man on the planet, and the other the most popular religious leader in the world. US President Barack Obama finally met His Holiness Pope Francis in the Vatican as part of his five-country trip across Europe and Saudi Arabia. This was President Obama's first meeting with the Pope.
"I think the theme that stitched our conversation together was a belief that in politics and in life, the quality of empathy, the ability to stand in somebody else's shoes and to care for someone even if they don't look like you or talk like you," President Obama said.
"It's the lack of empathy that makes it very easy for us to plunge into wars. It's the lack of empathy that allows us to ignore the homeless on the streets. And obviously central to my Christian faith is a belief in treating others as I'd have them treat me."
"And what I think has created so much love and excitement for His Holiness has been that he seems to live this, and shows that joy continuously."
The Pope and Obama talked about the issues affecting the poor, the marginalised, those without opportunity, and growing inequality.
Their discussion was specifically focused on the Middle East where Obama said Pope has a deep interest in the Israeli-Palestinian issue.
They also shared concerns over the situation in Syria and Lebanon, and the potential persecution of Christians, as well as the issue of immigration reform.
Obama's meeting with Pope Francis in the Vatican had some of the most candid photo opportunities below;