Actor Pierce Brosnan has joined the long list of personalities who have hosted an Ask Me Anything (AMA) webchat on Reddit.
The former James Bond actor did so to promote his new film The November Man, and took questions both silly and serious from fans. Here are some selected highlights...
You can read the full AMA here.
---
Naturally a lot of the questions directed his way were about the Bond franchise. Brosnan played the British spy from 1995 classic Goldeneye until 2002's Die Another Day, a disaster so big it put an end to the Irishman's underrated tenure as Bond.
Naturally he was asked about his favourite Bonds.

He was also asked whether he felt bad about killing off Sean Bean's character in Goldeneye, kick-starting a long-standing trend of Bean's film characters being liquidated.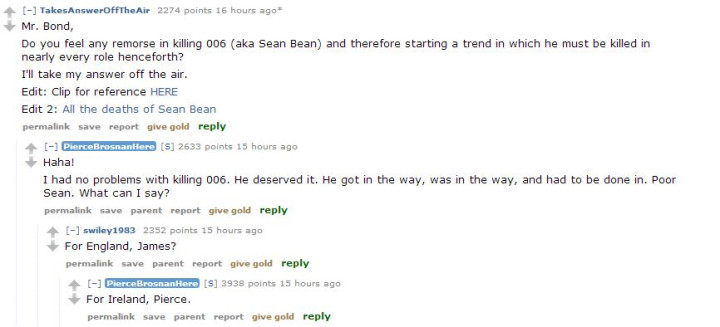 The 61-year-old (SIXTY ONE!?) was questioned about whether he kept any of Bond's famous gadgets and meeting other Bonds.


Given the coolest answer of the whole AMA, Brosnan also described in all the necessary detail how James Bond would defeat Jason Bourne.

Moving away from Bond, Brosnan was asked about the Batman and whether he was ever approached for the role. Surprisingly enough he actually was...

Due to the recent death of beloved comedian Robin Williams, Brosnan was asked about his time on set with him when the pair filmed children's classic Mrs Doubtfire. His response was sweet.

Naturally Brosnan was also asked standard questions about his favourite books, movies, TV shows, childhood heroes and his favourite tea.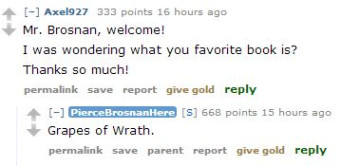 He also dished out some advice on making the perfect cuppa.

A lot of the answers focused on his new film of course, but many more were related to Brosnan's homeland of Ireland, which he clearly loves very dearly.