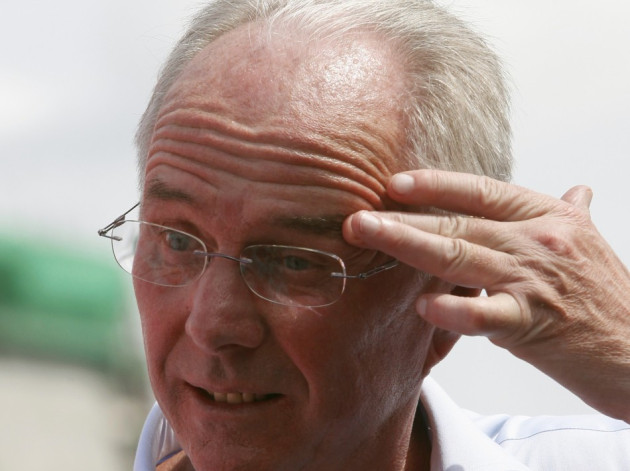 Former England boss Sven Goran Eriksson has claimed his phone was hacked by the Daily Mirror while Piers Morgan was editor.
Morgan, who is a TV personality with his own prime time show on CNN in the United States, has repeatedly denied any involvement in phone hacking.
Eriksson was one of four individuals to file complaints against Mirror Group Newspapers. Others were the former Premier League footballer Gary Flitcroft, Abbie Gibson, who used to be nanny for David and Victoria Beckham, and also Shobna Gulati, who starred in the soap Coronation Street.
The claims against Mirror Group allege voicemail messages were intercepted and that private information was misused in what constituted breaches of confidence.
The claims flatly contradict what Morgan told the Leveson inquiry into media standards during his appearance there, last year.
"I have no reason to believe it was going on," he stated at the time, adding that he was not involved in the use of private investigators while editor of the left-leaning title.
When asked by the inquiry if it was unethical to listen to phone messages, Morgan responded: "It doesn't necessarily follow that listening to someone else talking to someone else is unethical."
Morgan has a deal worth a rumoured £4m to ask tough questions of guests on CCN. What his paymasters make of the latest allegations was not clear.
Morgan was sacked as Mirror editor after publishing images of alleged abuse by British troops of captives, which were later proved to be fake.
The lawyer for the four new claimants told Sky News: "There might not be a documentary smoking gun, but we will show there is a smoking bullet, the consequence of the actions," said Mark Lewis.
Eriksson hit the headlines during his spell in English football for his activities on and off the football pitch. His affair with FA secretary Faria Alam was exposed. In 2002, a Mirror story about his affair with TV personality Ulrika Jonsson won 'scoop of the year.'
Nanny Gibson was threatened with court action by the Beckhams over claims by her about the state of their marriage. The couple said she had breached a confidentiality agreement by claiming "blazing rows" had brought them close to separation in 2005. The defunct News of the World later published an apology for the story.
The Mirror could be forced to reveal in court internal documents relating to the four claimants. No investigation was carried out by the publisher because there was no evidence reporters hacked any phones, the publisher said previously.