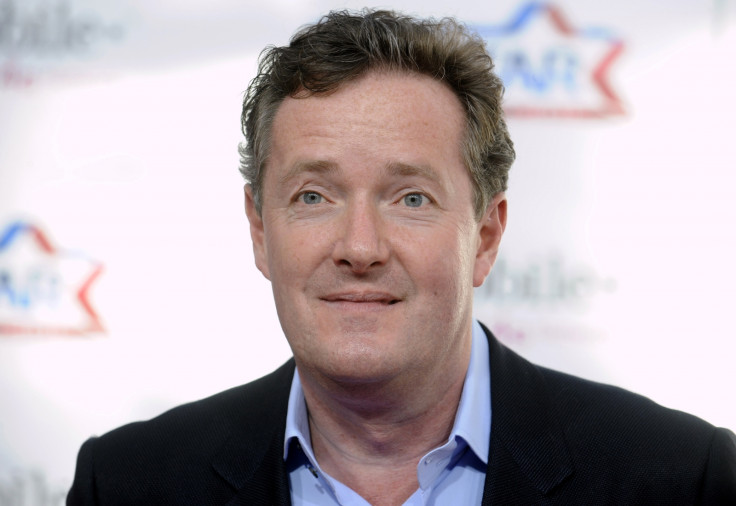 Controversial TV presenter Piers Morgan has withdrawn from hosting the Royal Television Society (RTS) awards after a campaign was launched to ban him.
The Good Morning Britain host was announced as a presenter on Thursday (16 February). However, following a petition to have him ousted from the role and a backlash from TV industry peers he has pulled out, claiming he did not want his presence to "serve as an unnecessary distraction" from the award winners.
The Change.org petition which garnered nearly 200 signatures stated that the former tabloid news editor's appearance at the event would be "damaging" and "inappropriate".
In a statement on his Facebook page, Morgan revealed that he had agreed to present the awards for free "for fun".
Responding to claims that he was ill-suited for the role he said: "After my role was announced, a campaign was started to have me banned. It suggested that I lack the 'creative excellence' criteria required for presenting such an event and therefore my presence would be 'damaging' and 'inappropriate.'
"Further, I have 'failed to understand a social movement that values equality and diversity of voice.' Apparently, this movement does not extend to tolerating my own diverse voice, " he added.
Extending his good wishes to the nominees, he explained that he did not want the "silly noise" to distract from the programme makers' achievements.
Among those criticising his involvement at the event was awards judge Bonnie Greer, who said she would decline to attend the dinner because of Morgan's defence of US President Donald Trump, who has accused the media of reporting "fake news" and being "enemies of the people".
According to BBC News, Emma Lindley, director of ITV's My Parents Are Aliens, added her voice to the clamour, tweeting: "I don't want Piers Morgan representing me or any other RTS members."@EMLIN32
Morgan's co-presenter on Good Morning Britain, Susanna Reid, responded to the controversy, tweeting a message in support of her co-host. "There's a lot that @piersmorgan and I disagree on. But as someone who knows what a very good presenter he is, I think this is a real shame," she said.
Morgan has been unapologetic in his support of his friend President Trump. He sparked outrage when he responded to the recent women's marches in protest at Trump's election, tweeting: "Planning a 'Men's March' to protest at the creeping global emasculation of my gender by rabid feminists. Who's with me?"
Last month Ewan McGregor backed out of an appearance on ITV's Good Morning Britain after "realising it was co-hosted by Morgan". Explaining his absence, he tweeted: "Was going on Good Morning Britain, didn't realise @piersmorgan was host. Won't go on with him after his comments about #WomensMarch."
Most recently the breakfast TV host became embroiled in a bitter Twitter spat with Harry Potter author J.K. Rowling, who has slammed his public support of Trump.
Reacting to his appearance as a guest on US TV show Real Time with Bill Maher, in which he was taken down by the Australian host for appearing to deny Trump's Muslim ban, she tweeted: "Yes, watching Piers Morgan being told to f**k off on live TV is 'exactly' as satisfying as I'd always imagined."
Fans of the TV personality have responded to the latest controversy with messages of support on social media, while his critics have revelled in the success of the campaign to have him removed.