ITV's Good Morning Britain viewers had a "skin-crawling start to the week" as they expressed their opinions on Twitter about Donald Trump's interview with Piers Morgan before they got a chance to eat breakfast. The second part of Piers Morgan's televised interview with the presumptive Republican US presidential candidate left the British public perplexed as he discussed UK politics and his ambition of becoming president of the United States.
During his chat with the former newspaper editor and long-time friend Morgan on Monday morning's show (16 May 2016), Trump questioned his kinship with David Cameron after the UK prime minister criticised his intentions to ban Muslims from entering America.
Trump said in the interview that he may not have a "good relationship" with Cameron should he be elected president, and also attacked newly appointed London Mayor Sadiq Khan after the latter suggested that his "ignorant" and extremist views on religion could put the world in danger if Trump is elected.
In response to Khan, Trump threatened that he'd never forget his comments. "He doesn't know me, hasn't met me, and doesn't know what I'm on about. I think they're very rude statements and frankly tell him I will remember those statements. They're very nasty statements," said Trump.
The 69-year-old has faced criticism over every step of his presidential campaign due to his stance on gun possession, women's rights, immigration (he has vowed to build a wall between the US and Mexico) and, most recently, refusing calls to release his tax returns. Trump was more than comfortable sharing his candid opinions with Morgan. His honesty was a double-edged sword, however, as viewers were left aghast at his revelations.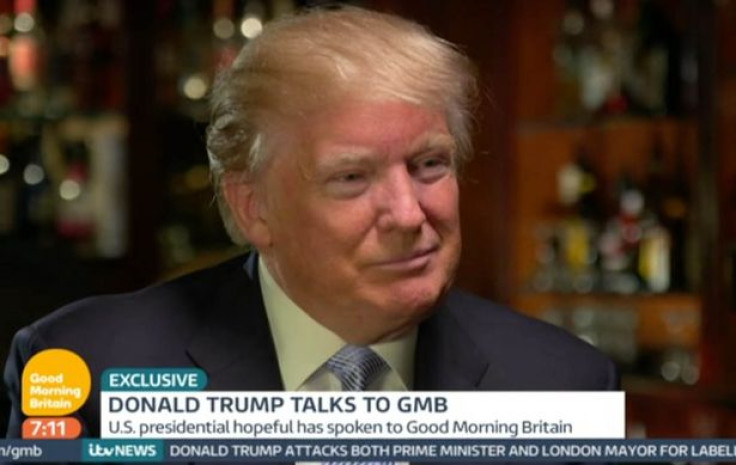 One viewer was left feeling a little nauseous by the comments, writing on Twitter: "The @piersmorgan interview of Donald Trump on #GoodMorningBritain is cringe-worthy. Piers you make me want to hurl". Another was left fearing for her mental well-being, writing: "@piersmorgan's interview with #DonaldTrump has left me agreeing with some of what Trump says... I'm slightly concerned for my own sanity!"
Another GMB watcher admitted that they understood the fascination surrounding Trump, posting: "Watched interview with Donald Trump on GMB with mix of admiration, trepidation and fascination. He strikes a chord, certainly @piersmorgan". Another said it was too early for such an interview, writing: "Donald trump frying my brain on good morning Britain".
Despite his controversial statements in opposition of immigration, plans for a temporary ban on Muslims entering the US, free trade agreements, and military intervention, the business mogul has won support among American voters, becoming the consistent Republican front-runner in public opinion polls.
See more Twitter reactions to his Good Morning Britain interview below.