Pipeline spills 176,000 gallons of crude oil about 150 miles from Dakota Access protest camp
The leak was reportedly contained within hours of its discovery.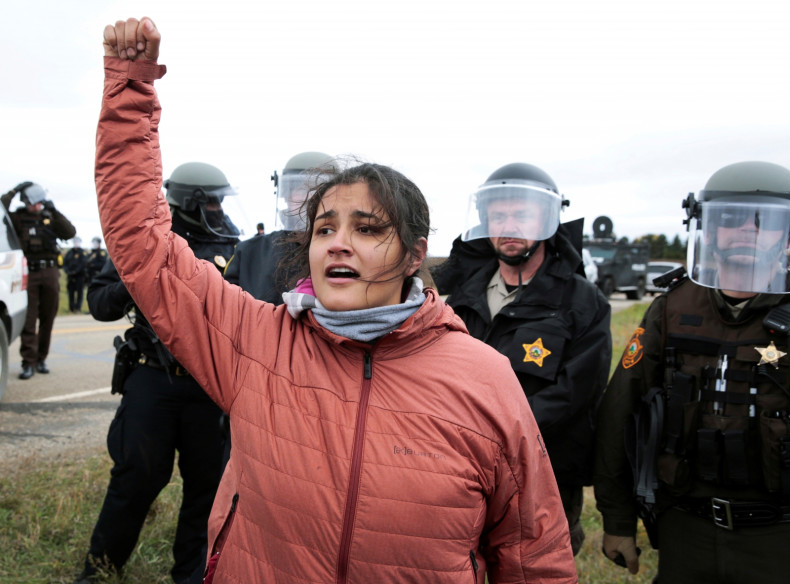 A pipeline has leaked thousands of gallons of crude oil into a North Dakota creek about 150 miles from the camp of protesters opposing the construction of the Dakota Access Pipeline.
North Dakota officials estimate 176,000 gallons have leaked from the Belle Fourche Pipeline into the Ash Coulee Creek.
North Dakota environmental scientist Bill Suess said a landowner discovered the leak on 5 December near Belfield. It is roughly 150 miles from Cannon Ball, North Dakota, where the protests have taken place for months.
Suess said that about 130,000 gallons of the oil leaked into the creek, while the rest spilled onto a hillside. He said more than 100 people are working to clear it up.
According to CNN, the pipeline was built in the 1980s and is 6 inches in diameter. Suess said it transports about 1,000 barrels of oil daily: "Anytime it gets into water, we respond differently and we take it more seriously."
Wendy Owen, spokeswoman for the Wyoming-based True Cos, which operates the Belle Fourche Pipeline, told CNBC that the leak was contained within hours of its discovery. She told The Associated Press that it is unclear why electronic monitoring equipment did not detect the leak.
The pipeline, which is buried on a hill near Ash Coulee Creek, was shut down immediately after the leak was found. Owen said the "hillside sloughed" and may have ruptured the line.
"That is our number one theory, but nothing is definitive," Owen said. "We have several working theories and the investigation is ongoing."
The leak could provide justification for members of the Standing Rock Sioux and other protesters who claim that the Dakota Access Pipeline could put water sources in danger and destroy sacred land. Several Native American tribes, environmentalist and other protesters have demonstrated against the proposed pipeline's route.
The US Army Corps of Engineers announced last week that it will deny the easement needed by Energy Transfer Partners to complete construction of the final segment of the $3.7bn Dakota Access pipeline.
US Assistant Secretary of the Army Jo-Ellen Darcy suggested finding alternative routes for the pipeline, CNBC reported. Energy Transfer Partners said it would not do that.
The corps' decision could only be temporary, however. Incoming Republican President-elect Donald Trump has repeatedly expressed his support for the pipeline's construction. According to CNBC, around 5,000 people continue to occupy land near the planned construction site.