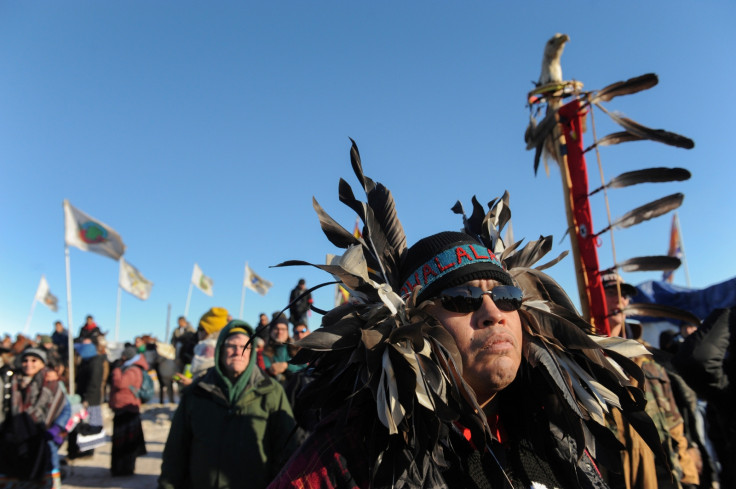 The US Army Corps of Engineers will deny the current route of the Dakota Access Pipeline and will halt construction of the pipeline following weeks of protests, the Standing Rock Sioux tribe have announced. The 1,172-mile pipeline is nearly complete except for a section underneath a Missouri River reservoir near the protest camp by the Standing Rock Sioux and other protesters.
"I am thankful there were some leaders in the federal government that realised something was not right even though it's legal," Standing Rock Sioux Chairman Archambault said in a statement, according to NBC Washington. "For the first time in history ... they heard our voices. This is something that will go down in history and is a blessing for all indigenous people."
In a statement released on Twitter, Archambault added: "We wholeheartedly support the decision of the administration and commend with the utmost gratitude the courage it took on part of President Obama, the Army Corps, the Department of Justice and the Department of the Interior to take steps to correct the course of history and do the right thing."
According to The Hill, Interior Secretary Sally Jewell issued a statement in support of the decision. "The thoughtful approach established by the Army today ensures that there will be an in-depth evaluation of alternative routes for the pipeline and a closer look at potential impacts, as envisioned by NEPA," Jewell said.
"The Army's announcement underscores that tribal rights reserved in treaties and federal law, as well as Nation-to-Nation consultation with tribal leaders, are essential components of the analysis to be undertaken in the environmental impact statement going forward."
Protesters have descended on North Dakota to demonstrate against the pipeline, which was set to run through North Dakota, South Dakota, Iowa and Illinois. The protesters were joined by thousands of veterans, who wished to protect protesters from law enforcement.