Disney and Johnny Depp's Captain Jack Sparrow are back in latest sea-faring sequel Pirates of the Caribbean: Salazar's Revenge. But as the fifth instalment in the franchise, does it manage to keep the sinking series afloat?
Our verdict
Pirates of the Caribbean: Salazar's Revenge
Franchises really are all the rage these days, aren't they? From the never-ending Fast and Furious series to Ridley Scott's recent revisit to space with Alien: Covenant, Hollywood just doesn't know when to quit. Most of the time, retreading the same ground time-and-time-again can either go one of two ways; either the movies – and their slew of different directors – successfully hone in on what the audiences really want from each outing and deliver or things start to go a bit pear-shaped.
Directed by Joachim Rønning and Espen Sandberg, Pirates of the Caribbean: Salazar's Revenge does more of the former than the latter, offering up a swashbuckling, surprisingly action-packed outing which combines light humour and adventure with ease. However, the stuff that made The Curse Of The Black Pearl so fantastic; charismatic characters, a splash of darkness and most importantly, an original story is thrown overboard here, resulting in a movie that's evidently not quite as good as it could have been.
Just like almost all of the movies that have come before it, Salazar's Revenge sees Johnny Depp's Captain Jack Sparrow become the target of an old nemesis. Only this time, it's not Geoffrey Rush, Bill Nighy or Ian McShane after him – it's Javier Bardem (which obviously means he's in serious trouble this time).
Bardem plays Captain Armando Salazar, a Spanish Navy officer who dedicated his career to ridding the seas of "filthy pirates." His bloodthirsty quest didn't end when his life did either, thanks to him meeting his end in the Devil's Triangle thanks to the actions of Sparrow, and being damned to remain a ghostly figure along with the rest of his crew forever.
Luckily for him (and us too – it wouldn't be much fun watching him wallow in the triangle's shadows for two hours), he's inexplicably freed from his watery prison and sets out on a new mission... You guessed it, to enact revenge on the very pirate who put him there in the first place.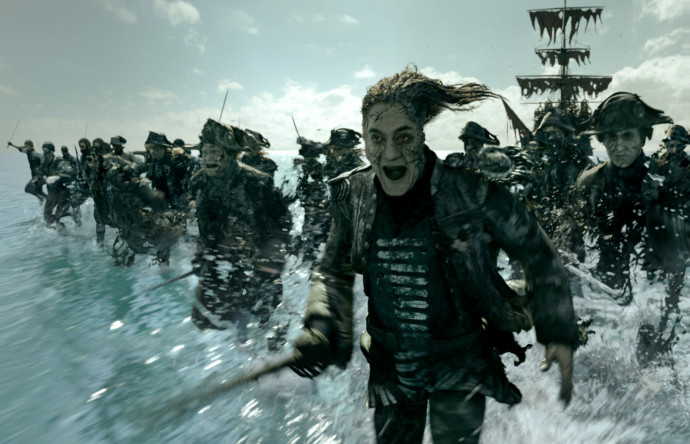 Anyone who's seen Skyfall or No Country For Old Men will know that Bardem is pretty much a dab-hand when it comes to playing menacing villains. Here, he gets to play an undead sea commander, who is not only decomposing before your very eyes but also spits out black liquid with every consonant... It doesn't get much more terrifying than that.
Wrong. He can't walk on land for starters, which diminishes his intimidation somewhat and his vendetta is so heavily blinkered towards pirates, that it's hard to see him as particularly ruthless or threatening because when it comes down to it, a respectable maritime captain would look down on the titular thieves, wouldn't he? Okay, so his methods aren't necessarily above board but his motives? Heck, they're not all that hard to get to grips with.
It's probably not helped by the fact that he barely gets any dialogue in the film. [We get it mate, Jack Sparrow's the one you're after, you don't have to keep gurgling his name].
He's certainly not the worst player on display though. Depp – unfortunately – is the film's weakest links (aside from perhaps Brenton Thwaites, who possesses none of the presence that on-screen dad Orlando Bloom had in the early films). Abandoning Sparrow's savvy attitude from the previous outings, he sinks into the realms of caricature, becoming little more than swaying comic relief. Seriously, there's so many faux screams, drunken stupors and accidental escapes that this Sparrow seems more like Alice in Wonderland's the Mad Hatter – only in pirate clobber – rather than the mysterious and semi-competent protagonist he once was.
Fortunately, fellow returning actor Rush owns his reprisal of Captain Hector Barbossa. For starters, he's giving a lot more to work with this time round, what with his character ending up with the movie's most interesting arc. A far-cry from the glorified cameos he's been warranted since his brilliant first appearance in the original way back in 2003. His sea-weathered pirate remains as cunning and wily as ever, making slippery deals with Salazar to maintain his authority over the high seas but he gets to show off his heart here too, making for some of the movie's more refreshing moments.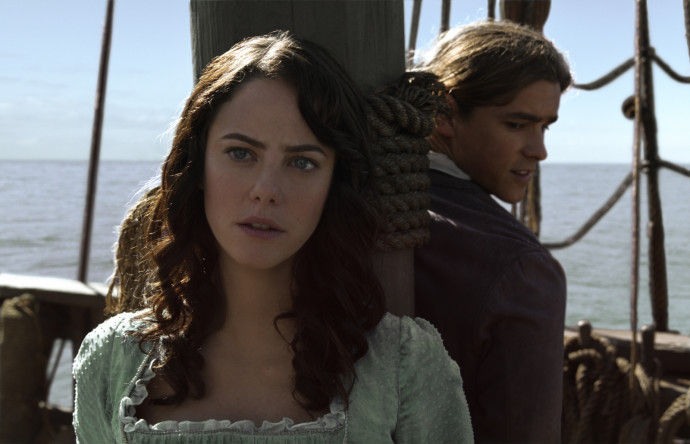 Aside from Rush (and those oh-so-fleeting but welcome cameos from Bloom and Keira Knightley), Kaya Scodelario also does great work with what she's given. Much like Elizabeth Swann, her Carina Smyth is spunky, sarky and likeable all rolled into one and in a film so filled with male characters, she holds her own completely.
Other aspects of the film fare pretty well too. Composer Geoff Zanelli combines Hans Zimmer's classic tunes with new music to create an atmospheric score while cinematographer Paul Cameron adds real flair with some of the movie's more fantasy-heavy moments; who knew that ghost sharks flying through the air in grandiose slow-mo could look so good?
Ultimately, Pirates of the Caribbean: Salazar's Revenge ticks all the boxes on paper. Not only does it do what it says on the tin, it ditches the overstuffed plots which dampened At World's End and On Stranger Tides for a much more simple tale of retribution.
With a whole host of memorable set-pieces – [the early bank robbery and escaped execution scene being a particular stand-out] – and decent performances from the majority of the cast, it keeps you entertained as much as a fifth Pirates of the Caribbean film is physically able to. That being said, those who preferred the more character-driven and adult instalments in the franchise, will likely be left with a salty taste in their mouth.