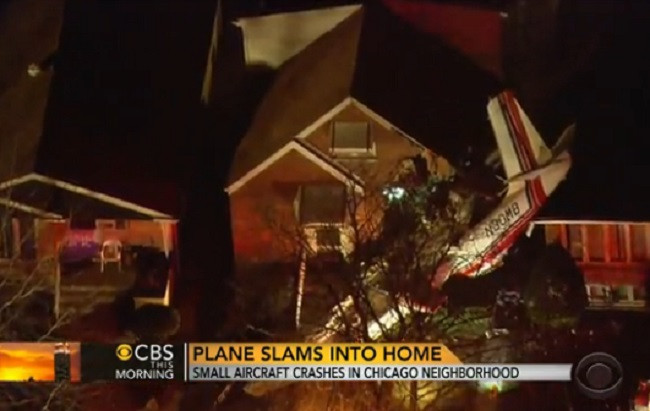 A small plane crashed into a Chicago home in the early hours of Tuesday (18 November) morning, killing the pilot and coming within inches of hitting an elderly couple.
The Aero Commander 500 nosedived into the bungalow at around 2.45am after reportedly suffering engine trouble following take-off from Midway International Airport. It was on its way to Ohio State University Airport in Columbus, Ohio.
The victim has not yet been identified while investigators finish carrying out their work, authorities said.
No fire or explosion was reported.
Elderly couple Roberta and Ray Rolinskas were inside the bungalow when it was hit by the plane but narrowly escaped unhurt after the plane missed them by just eight inches, the Chicago Tribune reported.
Chicago Fire Chief Michael Fox said: "They were in a bedroom next to the living room and the living room is gone. Eight inches. They were very lucky."
The couple's son, Rick, told CBS: "They're okay. She's a little confused right now. The neighbours have been real nice to us. We're just trying to get all the valuables out, and clothes, and get organised, and see where we've got to go from here."
His parents had lived in the property for 55 years.
He added: "Sad to say, she always wanted to remodel the house. It's not the way to do it. I just feel so bad for the pilot, and the family. It's a terrible thing."
Neighbouring properties were evacuated as a precaution.
The aircraft was built in 1964 and is registered to Central Airlines, Inc. of Fairway, Kansas.
The company said it was cooperating with the investigation.