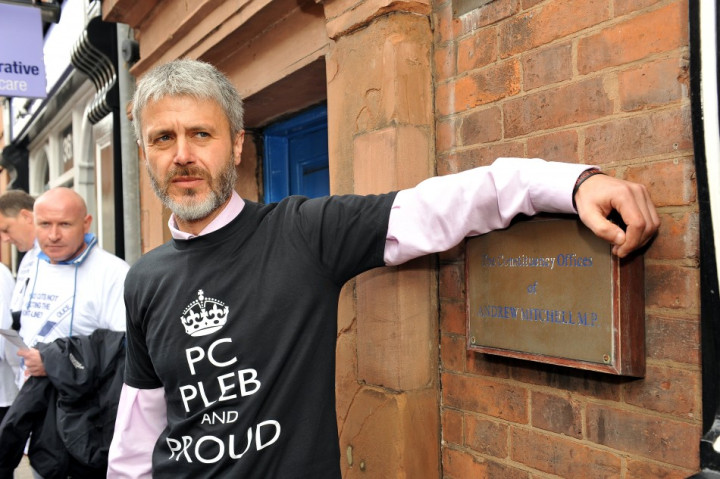 The "pleb row" around Tory chief whip Andrew Mitchell has gone global - as a fashion statement.
Orders for T-shirts mocking Mitchell's alleged slur of the police force are said to be flooding in from overseas. Hundreds of the £14.99 T-shirts have been sold, with £3 from each sale going to the charity COPS (Care of Police Survivors).
Interest is particularly strong from the US, claimed said Simon Payne of Warwickshire Police Federation.
The hapless chief whip may inadvertently have helped introduce a new word to the popular lexicon in the States.
"We've had huge enquiries about the shirts," said Payne. "People have been calling from the US. They are very interested about the term 'pleb'. They do not know what it means.
"Finding that out about the word and then how it has been associated with our fine police service - that is what they're interested in.
"Is it a British image thing? I do not know. But they are very interested in this."
Three federations in the West Midlands are behind the T-shirt campaign. Mitchell's Sutton Coldfield constituency is in the region.
At least six designs on the pleb theme are available. "PC Pleb", "PC Pleb and Proud", "Retired Pleb" and "Wife of a Pleb" are among the choices.
Class-bound Britain
It seems the "pleb-gate" row is tapping into a traditional image abroad of class-bound Britain.
"The whole issue of the pleb incident is in the public psyche because of what that means in today's society," said Payne.
"'Pleb as a word is an issue because when we look at the meaning of the word, the perception of those in power becomes that they are from a different class. Those outside are not worthy. So pleb is a loaded term.
"It's not in my vocabulary," he added.
Mitchell was given a view of the new fashion statement at his constituency office when Payne turned up proudly posing in his "PC Pleb" T-shirt. Camera crews were on hand to capture the moment.
The garments are going down well in Warwickshire too, he said, and trade is brisk.
He insisted that turning Mitchell's alleged words into a T-shirt slogan was not simple mischief-making by the police federation.
"The elephant in the room in this matter is that we still do not know from Andrew Mitchell what words he used," he said.
"The reason this story is still going is that we do not know what happened from Mitchell's side.
"This is not us being opportunistic. It would never have been a story if he had come out and explained what he said."
The row erupted in September when police officers stopped Mitchell from riding his bike through the Downing Street gates.
In the exchange that followed police officers claimed they were branded "f***ing plebs" by the chief whip.
Mitchell denied he used that word, but admitted not paying officers enough respect.
He has agreed to meet the Police Federation to talk over the issue.