The Barbie doll, one of the most popular toys ever invented has caused a social media storm about female body image.
The Facebook group Plus Size Modeling posted a mocked-up image of a plus-size Barbie beside a traditional Barbie. They asked the question: "Should toy companies start making plus-sized Barbie dolls? In all honesty, we want to know..."
Comments on the image, produced by Worth1000.com, generated over 36,000 likes and over 1,600 shares, with a particular bone of contention over the plus-size Barbie's chins.
One commentator was unhappy with the new-look doll: "The triple chin is too much. Most overweight people (me included) only have a double chin no matter what size they are. This Barbie is inaccurate."
Another said: "I think the double chin is ridiculous"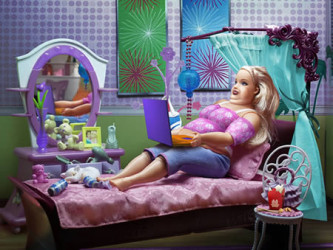 Others were keen to see the female form based on reality. Lindsay Keg-leg Kahlig commented: "[The] average [dress] size these days is 14-16.
"A doll that shows real life perspective, rather than the ideal unhealthy weight like 0 or unhealthy negative display of obese is a better more healthy approach [sic]."
The overall opinion was that rather than promote an 'obese' Barbie, young girls should have a healthy-looking doll that is neither too fat nor too thin.
The Mattell doll has been at the centre of a debate about female body issues previously.
Artist Nickolay Lamm created a Barbie-like doll based on measurements of an average 19-year-old woman, and photographed it alongside a regular Barbie doll.
His research into the Mattell toy found that if she were to exist as a human, Barbie would weigh about 110lbs - or 7 stone, 8lbs - and would have a BMI of 16.24. This would fit the weight criteria for anorexia.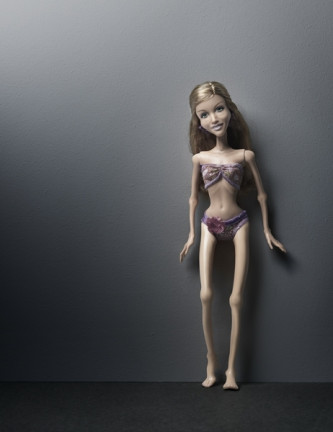 The 1996 study Ken and Barbie At Life Size, found that Barbie's head is two inches larger than the average US woman's, her waist is 19 inches smaller and her hips are 11 inches smaller.
As her waist would be four inches thinner than her head, Barbie's body wouldn't have the room it needs to hold all of its vital organs.
Her skinny ankles and child-size feet (Size 3) would make it necessary for her to walk on all fours.
A fat Barbie has been used before to raise issues of healthy eating. An advert for the Active Life Movement in 2009 used the doll to remind parents to "Keep obesity away from your child."
To date over 1 billion Barbies have been sold worldwide, with annual sales of over $1.6 billion (£1bn).