'Vampire Cannibal' Bites 3-year-old Daughter to Death and Drinks her Blood in Papua New Guinea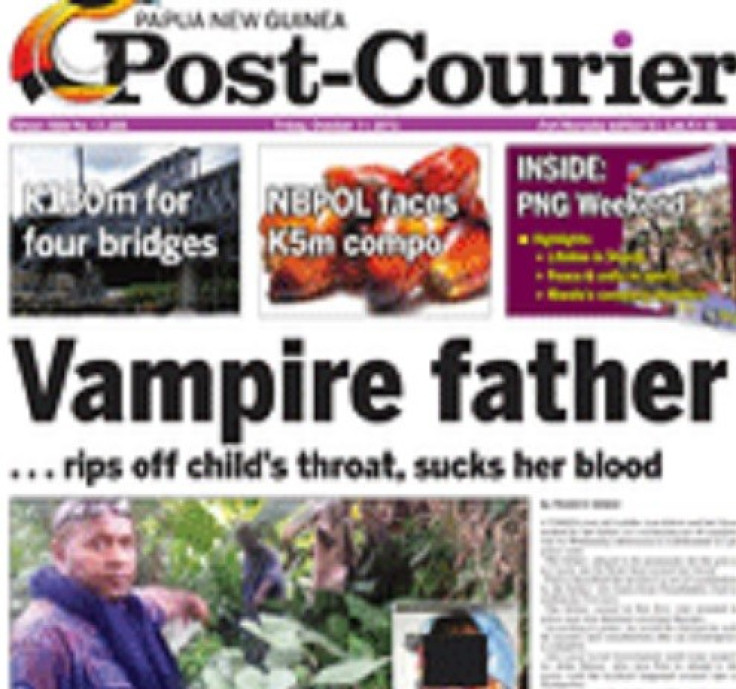 A Papua New Guinea (PNG) man has been arrested for allegedly killing his toddler daughter by biting her in the neck and then eating her flesh.
The man who lived in a settlement near Lae, eastern PNG, was described as a vampire because he allegedly also drunk his daughter's blood, AFP reported.
Local newspaper PNG Post Courier named the man as Rex Eric, adding that police are treating the incident as an act of cannibalism.
The child had been brought to visit her father by her mother, local councillor John Kenny told the newspaper.
Kenny said the man snatched the toddler, jumped a fence and run into the bushes. He then bit deep into her neck, ate the flesh and sucked her blood.
Two local boys who were climbing a coconut tree witnessed the scene and raised the alarm.
"He was just laughing at the boys and continued eating the flesh and sucking the blood," Kenny said.
The man reportedly dumped the body and fled but was later apprehended by police.
A recent report by charity organisation ChildFund Australia showed children and women suffer from extreme levels of violence in Papua New Guinea.
The report said: "In PNG women are raped, killed and maimed on a shocking scale. The brutality is severe, often involving bush knives, axes, burning, spearing and even biting."
Sorcery-related violence has also often been recorded in PNG.
© Copyright IBTimes 2023. All rights reserved.