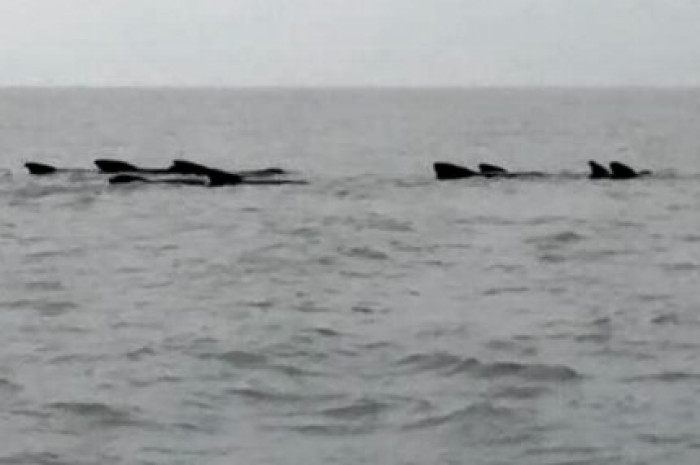 Experts are still trying to save a pod of pilot whales from becoming stranded in shallow water just off the coast of Essex.
A group of around 40 whales were first spotted entering River Blackwater on Tuesday. Essex Police and the coastguard were called after the mammals were seen approaching the shallow water at St Lawrence Bay.
The mammals, which were believed to be following and eating shoals of herring, were later seen heading towards the shore between St Osyth and Jaywick.
Police and a number of rescue boats and helicopters were used to try to divert them to deep waters in case they got stranded when the coast came in. Two were briefly beached on the coast of St Lawrence during the operation.
The Essex Wildlife Trust said the behaviour of the mammals was of "great concern" and are urging local residents to keep their distance so they do not frighten the animals.
A spokesperson said: "All volunteer medics are on standby and all equipment is in place, so experts can act as quickly as possible, should the whales become stranded.
"If the whales are relocated, it is vital to keep their exact location out of the public domain until the police and marine experts say otherwise, as large groups of people/boats could easily exacerbate the whales' trauma. These are intelligent animals that are, unfortunately, stressed and disorientated."
PC Simon Lofting from the Special Branch Marine Unit said: "We have had small numbers of dolphins and porpoises off Essex but this is the first time so many whales have been seen. We had been out the previous day on the Thames when there were sightings off Southend and Kent, but we did not find them.
"But on Tuesday following sightings in the River Blackwater we were contacted by British Divers Marine Life Rescue and asked to assist. We had an expert from BDMLR on board our boat and he had real concerns that the whole pod could strand themselves."