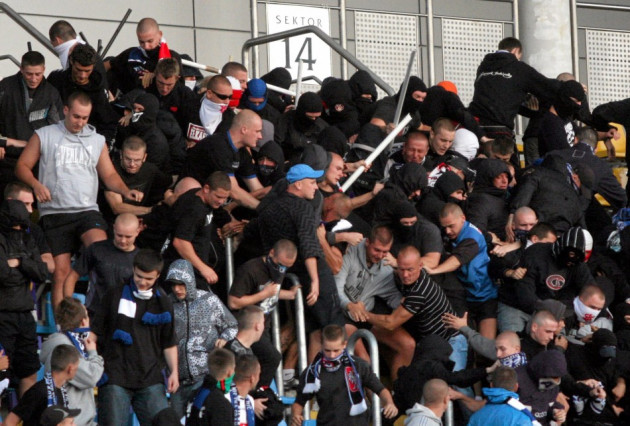 Polish police officers will be on patrol in London looking for hooligans in town for the England versus Poland match at Wembley.
Reports suggest that 18,000 Poles will be at Wembley to support their team in the World Cup qualifier, and police are mindful of the violent reputation which sections of the visiting support brings with it.
Football hooligans from Poland are fanatically dedicated to their clubs and battle rival fans in large-scale fist fights as part of an honour code which espouses a creed of violence. According to reports, several Polish hooligan groups have been infiltrated by far-right extremist organisations.
During last year's Euro 2012 tournament, co-hosted by Poland and Ukraine, 183 people were arrested in Warsaw during running battles involving Russian and Polish fans, sparked by nationalist fervour.
In response to the threat, spotters from police forces in Poland are going to be on watch at Tube stations and at Wembley Stadium. They will swoop on known hooligans who may have come to cause trouble.
The sizable police presence follows a detailed intelligence-sharing operation between the Metropolitan police and Polish authorities ahead of the match.
A Scotland Yard spokesman said: "Officers will be working with spotters from Poland as part of the operation. There will be a large, highly visible policing operation in central London, surrounding key transport hubs and Wembley Stadium itself. Police and stewards are there to try and help keep people safe."
The authorities have also taken the unusual step of turning Wembley in to a dry zone by turning off the beer pumps all around the stadium for the match. England and Poland fans will even be prevented from drinking in the same pubs ahead of kick-off.
England supporters will be banned from drinking in five pubs close to Wembley Stadium by police. Officers will direct Poland fans wearing the national kit or other garments like scarves to drink only in prescribed pubs containing no England fans.
Chief Superintendent Colin Morgan said: "We have been planning our operation for weeks. What we want is for all the fans who are heading to the match to cheer on their national team to have a great, safe, night out."

Poland have already been eliminated from reaching the World Cup next year and will only be playing for pride during their trip to London. Meanwhile, England can book a place at next year's World Cup in Brazil by beating their visitors.