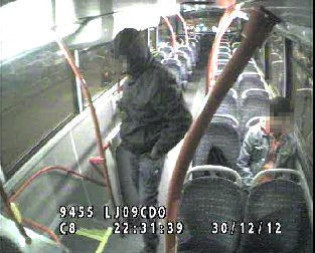 Police in London have released an image of Dawda Jallow, the 15-year-old who is being sought for questioning for the murder of Dogan Ismail.
The CCTV picture of Jallow was taken on a number 35 bus in Camberwell, south London on 30 December - hours after Ismail, 17, was stabbed to death.
London Ambulance Service were called to the Aylesbury Estate at 4.20pm and pronounced the teenager dead at the scene.
He had been attacked after he and his brother encountered a group of males on the estate. It is thought Ismail and his 15-year-old brother had gone there to retrieve a BlackBerry phone.
A 15-year-old boy was arrested on suspicion of murder and a 39-year-old woman was arrested on suspicion of perverting the cause of justice. Both were bailed pending further investigations.
Jallow has been missing since the attack. He is described as black, around 5ft 5, clean-shaven, has cropped black afro hair and is of slight build. He has brown eyes and speaks with a London accent.
Detective Chief Inspector Matt Bonner said: "We are taking the rare step of publicising Jallow's name and image as it is critical he is found as soon as possible. Given an apparent close circle of friends and family who live locally, I believe that he may be residing with them seeking shelter in the hope that he remains out of sight.
"I am appealing to anyone, in particular to those who may have accommodated or are helping him at present, to look to their conscience and do the right thing and inform the police of his whereabouts. They owe it to the Ismail family."
Following the attack, Ismail's family said: "Words cannot how much we will miss him. We want justice for Dogan and his killer caught. Anyone with information, please tell the police."
Ismail was the second person to be murdered on the Aylesbury estate in a short space of time. Shaun Chambers, 21, was stabbed in the chest in an apparent gang-related killing on 26 September, just metres from where Ismail died.
Chief Superintendent John Sutherland said: "The vast majority of those who live and work in and around the estate are decent, law-abiding people - but, in keeping with many Inner London Estates, the Aylesbury has its challenges. We're wholly committed to facing up to those."