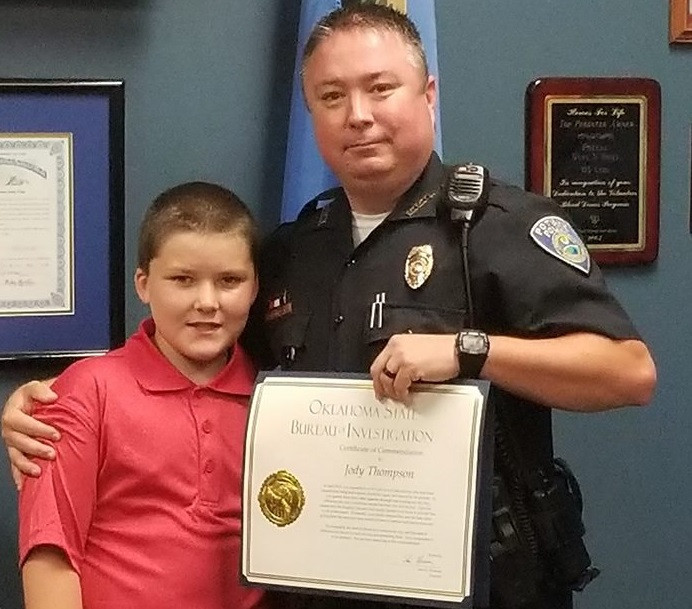 An Oklahoma police officer has adopted a severely abused eight-year-old boy he rescued from a house of horrors in 2015.
Poteau Police officer Jody Thompson found the child bound by his hands and feet and submerged in a bin at his parent's home before the boy was rushed to hospital.
Thompson stayed with the boy while he was taken to intensive care and two years later, now named John Thompson, the rescued child is now a straight A student.
In an interview with KFSM-TV recalled the moment he saw the starved child after being dispatched to investigate a severe case of child abuse.
"I thought I would respond to the call with on duty officers to see if I could give any kind of assistance," Thompson said.
"When I seen him. When I seen him in that house. ... I knew," he said.
Poteau Police Chief Stephen Fruen explained what happened in that child abuse case: "Based on some of the case facts, when we found him he was bound by his hands and feet with rope and had been submerged in a trash can, held in the shower.
"They weren't feeding him. He didn't have much to eat. I think what he did get to eat he got at school. Bruises, he was covered in bruises from head to toe."
After Jody Thompson had accompanied the child to hospital he and his wife made the adoption official.
"And the rest is kind of history," Jody Thompson said. "He means everything in the world that we live in. He's the strongest person I've ever met. He means the world."
When asked what his dad means to him John Thompson said: "He was helpful to me. He's the reason why I'm here right now."
Two years later the boy is said to be thriving in his local school and the story doesn't end there.
Whilst John Thompson's biological mother was in prison she gave birth to a baby girl and the Thompson family adopted her just the day after she was born.
Fruen said as Thompson was awarded a commendation by his police department: "Jody's actions as well has his families are second to none. The example of love and compassion he has shown to this young man and his sister is an example everyone should follow.
"It's men like you that make me proud of our law enforcement brothers and sisters."