Poland's conservative Law and Justice party has swept to victory in the parliamentary elections, with exit poll results suggesting it may have won enough seats to govern alone.
Exit poll results suggest the party won 39% of the vote, which if confirmed, mean Law and Justice (Prawo i Sprawiedliwość) will be the first party to govern alone in 26 years. Since democracy was restored in 1989, post-communist Poland has never seen a single party command a legislative majority, meaning the country has been ruled under coalition governments as well as periods of minority rule.
Prime Minister Beata Szydło
Party leader Jarosław Kaczyński has claimed victory and the prime ministerial candidate Beata Szydło has thanked the public for their support. "We have won because we have been consistent in facing all the challenges ahead of us and we followed in the footsteps of the late President Lech Kaczyński. We wouldn't have won had it not been for the Polish people who told us about their expectations and needs, and who in the end voted for us," she said.
Szydło, whose father was a miner, will be the country's third female prime minister, taking the reins from Ewa Kopacz of the Civic Platform party. Born in Oświęcim in south-west Poland, Szydło graduated from the Jagiellonian University in Kraków in 1989 and was elected mayor of the Małopolska (Lesser Poland) province at 35. Szydło has been a conservative MP for a decade, having been elected as a member of the Sejm – the lower house of the Polish parliament – in September 2005.
In June, Szydło was named Law and Justice's prime ministerial candidate, expected to be the more moderate face of the party. She previously saw success as the campaign manager for Andrzej Duda in the May presidential election, who emerged victorious after defeating Civic Platform incumbent Bronisław Komorowski.
Party leader Kaczyński, whose twin brother and former Polish president Lech Kaczyński died in the Polish Air Force jet crash in Smolensk in 2010, is still expected to hold sway over government. Arguably one of Poland's most well-known politicians, he is regarded by many as a staunch defender of Catholic values but remains a divisive figure in Polish politics. He recently came under fire for warning refugees fleeing Syria could bring diseases and parasites to Europe.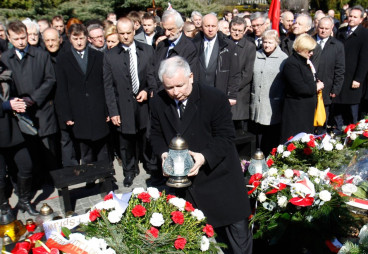 Law and Justice
Law and Justice is a member of the Alliance of European Conservatives and Reformists, of which the British Conservative party is also a member. The party is close to the country's powerful Roman Catholic Church and wants to enshrine more Catholic values in law, such as a ban on abortions and in-vitro fertilisation.
In foreign policy, the eurosceptic Law and Justice opposes joining the eurozone and advocates Nato intervention in dealing with Russia. The party has promised tax breaks, increased benefits and more welfare spending on the poor.
Although Civic Platform successfully steered Poland through the Euro crisis to become the only EU country to avoid recession, pockets of poverty and economic stagnation still exist in Poland. The Law and Justice party has strong support in Poland's rural areas for this reason, which in part contributed to the usurpation of the centrist Civic Platform.
One of the key issues at stake is Europe's refugee crisis. The former government's decision to accept 7,000 migrants was heavily criticised by Law and Justice. Szydło has campaigned against the EU forcing member states to accept a set number of refugees from the Middle East and North Africa.
Throughout Law and Justice's campaign trail, the party accused Civic Platform of being out-of-touch with ordinary Poles, while playing on scandals which have plagued the party. In June, three Polish ministers and the country's parliamentary speaker resigned amid a row over leaked tapes. The officials were secretly recorded in Warsaw restaurants discussing private deals and promotions.
Exit polls suggest left-wing electoral coalition United Left (Zjednoczona Lewica) did not win enough votes to get seats in parliament. Only three other parties are predicted to have done so: the agrarian Polish People's Party (or Polish Peasants' Party), a right-wing party led by former rock star Pawel Kukiz and the centrist Modern party (Nowoczesna), founded by economist Ryszard Petru.