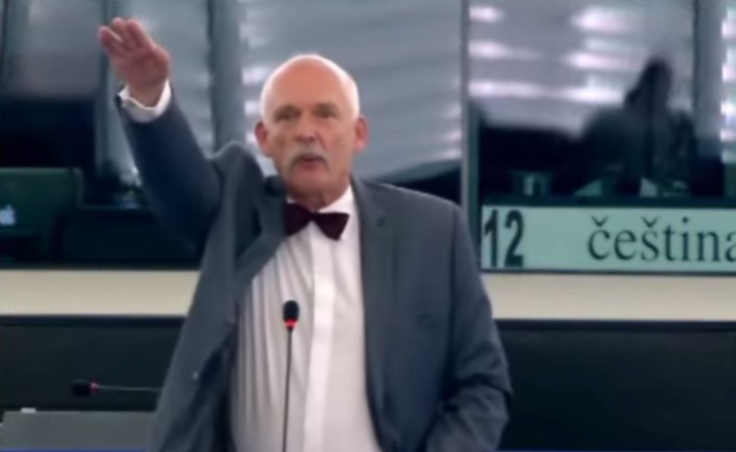 Controversial Polish MEP Janusz Korwin-Mikke could face two years in prison after giving a Nazi salute and shouting a fascist slogan in the European Parliament.
Polish investigators will decide over the next two weeks whether to prosecute Korwin-Mikke for a breach of Poland's anti-hate laws.
The eastern European country has strict legislation banning the promotion of fascist or totalitarian ideology and against incitement to racial hatred.
The Polish prosecutor's office in Warsaw has said at the end of its deliberations Korwin-Mikke could face a fine for his actions or two years in prison according to the Polish television channel TVN24.
Janusz Korwin-Mikke stunned fellow members in the European parliament when he rose to his feet during a debate on transport and gave a Nazi salute.
"Ein Volk, ein reich [one people, one empire]," Korwin-Mikke proclaimed as the parliament debated a German motion to standardise bus and train tickets across the EU.
The slogan was one of the most repeated phrases in Nazi Germany and was usually followed by "ein Führer," (one leader), a reference to Adolf Hitler. Korwin-Mikke had meant to mock the standardisation which he said was a blow to European diversity. However his point was somewhat overshadowed by the display.
The Polish foreign ministry has been forced to apologise for the bizarre outburst. The Polish foreign minister Grzegorz Schetyna said in televised statement: "We all are ashamed of such behaviour and we apologize to Europe, the European parliament, sorry to the voters."
It is not the first time the controversial MEP has grabbed media attention with his rants. In the past Korwin-Mikke, who is fiercly pro-Putin, has decried the EU as a "communist project" and said the European Commission building would be better used if it was turned into a brothel.
He has also not hidden his contempt for democracy and said he had sought political position for diplomatic immunity, a large pay cheque and an office in the European parliament.
In the past Korwin-Mikke, who has been an MEP since July 2014, has also used the n-word in parliament, said women had evolved to be less intelligent than men, and socialists were more stupid than monkeys.