Poland's foreign minister has said that Vladimir Putin's Russia is a "existential threat" more dangerous than the Islamic State (Isis) in the wake of growing tensions in the Baltic. Witold Waszczykowski made the comments after two Russian SU-24 attack jets made "simulated attacks" on the American warship USS Donald Cook.
Both Nato and Russia are strengthening their presence in the Baltic Sea. Waszczykowski described relations between the two as being "very bad". In March 2016, Nato aired plans to send an additional 4,500 US troops to former Soviet Union states in order to "nullify" the Russian threat in the region.
Before this, in February, Poland aked Nato to send reinforcements to the region in exchange for assistance on Nato's southern border in Syria – where the fight against Isis (Daesh) continues. The Polish government say they are concerned after the March 2014 annexation of Crimea from Ukraine, after which Nato suspended co-operation with Moscow .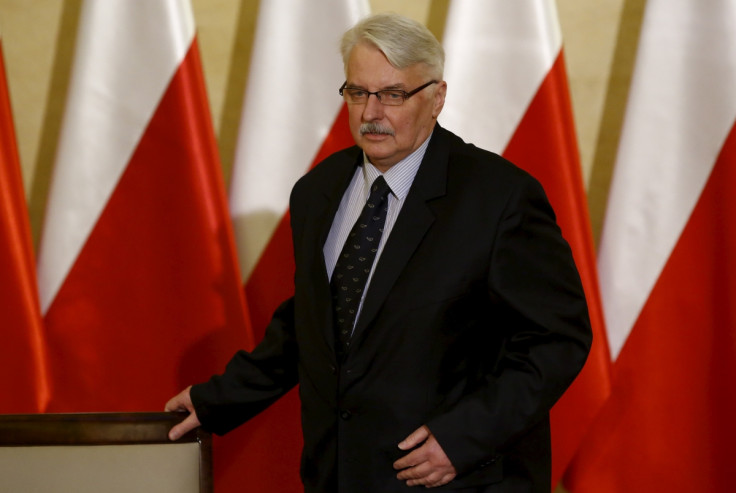 Nato will meet for crunch talks with Russia in July this year with the Poles are hoping to convince the military bloc to send more troops to former communist eastern Europe. But tensions are threatening to spill over even before then, with the Polish government believing the Russian military build-up is "absolutely unjustified".
Eastern members of the Nato bloc including former Soviet-ruled Baltic states have lobbied the organisation to step up its presence in the Baltic. On 15 April, Waszczykowski claimed Russia posed an "existential threat" more dangerous than IS saying they are a very serious threat, but not an "it is not an existential threat for Europe".
"By all evidence, Russia's activity is a sort of existential threat, because this activity can destroy countries," said Witold Waszczykowski, while visiting annual Globsec security forum in Bratislava according to Sky News. "We also have non-existential threats like terrorism, like the great waves of migrants," he added.
Nato expansion
Nato and Russian ambassadors are set to meet next week for the first time in almost two years in an attempt to thaw the increasingly tense relationship. Nato still accuses Moscow of backing pro-Russian rebels in Ukraine against the newly-formed pro-Western government in Kiev, a claim Moscow denies.
Russian ambassador Alexander Grushko said he plans to protest at the rare talks in Brussels on 20 April. He said: "Nato has been deploying additional forces, increasing its military activity on a rotational basis, adding equipment, creating permanent storage sites for military weaponry and equipment."
Nato's membership has been increasing since 1999 when Poland, Hungary, and the Czech Republic all joined the military bloc. Bulgaria, Estonia, Latvia, Lithuania, Romania, Slovakia and Slovenia all joined in 2004. The most recent members include Albania and Croatia which joined in 2009. In 2011, NATO officially recognised Bosnia and Herzegovina, Georgia, Macedonia, and Montenegro as aspiring members.