Polish Military Prosecutor Survives Shooting Himself in Head [VIDEO]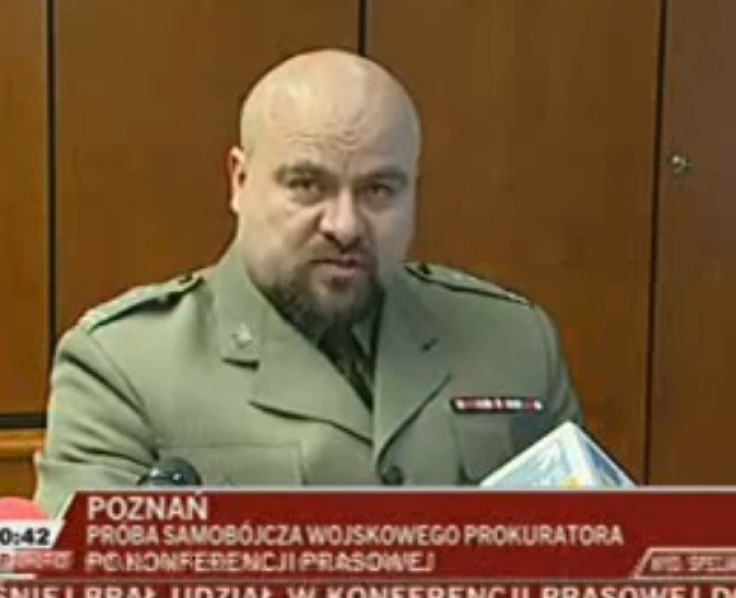 A Polish military prosecutor shot himself in the head shortly after a press conference into the investigation into the 2010 air crash that killed the Polish President.
Prosecutor Mikolaj Przybyl shot himself after cutting short a press conference where he was defending a military investigation into media leaks involving the air crash which killed then President Lech Kaczynski.
At the end of the conference, Przybyl asks the reporters to leave his office so he can take "a five minute break." The cameras which were still rolling following the conference filmed Przybyl going out of shot. You can then clearly here the Polish prosecutor loading a gun and firing.
Before the attempted suicide, Przybyl is seen reading out a statement saying: "During my entire service as a civilian and later military prosecutor, I have never brought shame to the Republic of Poland and I will protect the honour of an officer of the Polish armed forces and prosecution. Thank you, please give me a five-minute break, I need to rest."
One of the reporters present at the press conference told Polish television: "We heard a loud thud and we went back into the room thinking one of the cameras had fallen over. Then we saw the prosecutor motionless on the ground in a pool of blood, his military gun beside him."
It is reported that Przybyl's life is not in danger despite shooting himself in the head after medical services arrived "within minutes" of the shooting.
"According to the information available, the prosecutor is alive, he is being treated in the hospital and the site is being investigated by the prosecutors and military police," said Slawomir Schewe, a spokesman from Poznan military prosecutors office.
At the news conference, Mr Przybyl had denied prosecutors in Poznan, western Poland, had eavesdropped on journalists who were investigating the crash, AFP news agency reports.
The plane taking then president Lech Kaczynski's delegation to a memorial service for the 1940 Katyn massacre of Polish officers by Soviet secret police crashed in thick fog in Smolensk, western Russia on April 10, 2010.
© Copyright IBTimes 2023. All rights reserved.