There is almost 269,000 tonnes of plastic floating around the world's oceans, scientists have estimated - equivalent to about three Nimitz-class aircraft carriers or 10 Statues of Liberty.
Plastic pollution is found in varying concentrations throughout Earth's oceans, but there is a lack of sufficient data to estimate exactly how much there is.
Garbage patches are found in oceans across the world, where a gyre of marine debris builds up over time. The largest is in the Pacific Ocean, but there is no evidence to estimate the exact size or mass of it.
Published in the journal PLOS One, researchers from six countries provided data from 24 expeditions over a six year period across all five sub-tropical gyres, as well as coastal Australia, the Bay of Bengal, and the Mediterranean Sea.
As well as looking at macroplastic, researchers looked at microplastic - small plastic particles that have become hugely problematic especially in the marine environment. Unlike macroplastic that causes entanglement and suffocation, the long-term impact of microplastics is unknown.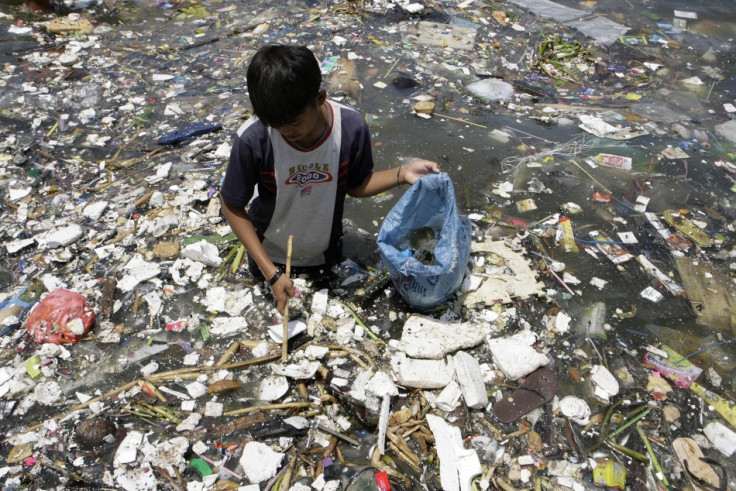 Researchers collected microplastics using nets, while data on larger plastic debris was from visual surveys. The information was then calibrated to create and ocean model of plastic distribution.
Findings showed that there is a minimum of 5.25 trillion plastic particles weighing 269,000 tonnes in the world's oceans.
Larger plastics are more abundant near coastlines, after which they degrade into microplastics in the subtropical gyres. The smallest microplastics were found in some of the most remote areas, such as the subpolar gyres – an unexpected finding of the study.
The authors conclude that the gyres act as "shredders" of large plastic items, which are then ejected across the oceans.
Study author Marcus Eriksen, from the Five Gyres Institute, said: "Our findings show that the garbage patches in the middle of the five subtropical gyres are not the final resting places for the world's floating plastic trash. The endgame for micro-plastic is interactions with entire ocean ecosystems."