Italy's culture minister has demanded explanations on Sunday after further collapses in the ancient Roman city of Pompeii over the weekend.
Concerns over the state of one of the world's most treasured archaeological sites have been raised after several collapses over recent months and years, which have led some to suggest the site is being neglected.
The recent collapse of a wall of a tomb in Pompeii, which was preserved under ash from a volcanic eruption in 79 A.D. and rediscovered in the 18th century, is believed to have been brought down by heavy rain.
Measuring around 1.7 metres (5.5 feet) high and 3.5 metres long, it collapsed in the necropolis of Porta Nocera in the early hours of Sunday.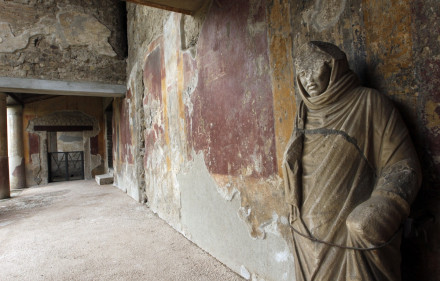 A section of an arch supporting the Temple of Venus collapsed on Saturday.
The Temple of Venus is in an area of the site which was already closed to visitors, while access to the necropolis has been closed following the collapse of the wall.
Culture minister Dario Franceschini, who was appointed last month, summoned officials responsible for the site to Rome for an "emergency meeting" on Tuesday.
He has stated he wanted a report on the reasons for the latest collapses and would investigate routine maintenance at Pompeii, as well as the progress of an ambitious restoration project launched last year with European Union funds.
Maria Pia Guermandi, a Pompeii expert with heritage group Italia Nostra, told the Telegraph the collapses would continue if low cost maintenance procedures, such as clearing drainage channels, were overlooked.
She said: "Months in to the programme, nothing is being done to reduce the risk of rain."
"The EU money is being focused on the restoration of a few important houses, but Pompeii doesn't need expert restorers, it needs workmen who can provide daily maintenance. These two new collapses show the situation is still out of control."
She added: "The money needs to be spent by 2015 or funding will be withdrawn, yet only about ten million has been used and things have been slowed down by in-fighting at the ministry of culture."
Pompeii, a UNESCO World heritage site, was home to about 13,000 people when it was buried under ash, dust and pumice pebbles after a volcanic eruption blast equivalent to around 40 atomic bombs.
Around two-third of the 165-acre city has been uncovered. It is one of Italy's most popular tourist attractions, drawing in over two million tourists every year.