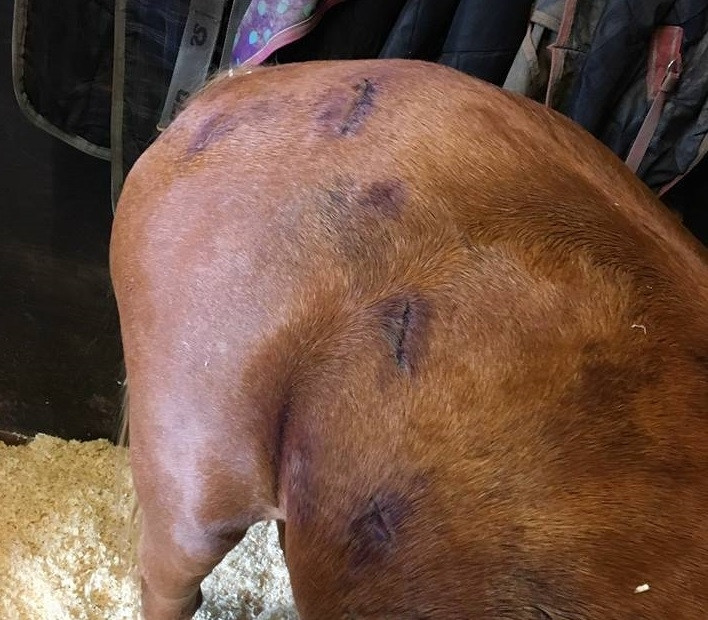 A family have described their horror after discovering one their pony's had been stabbed more than 30 times during an "absolutely sickening" attack.
The 25-year-old pony Kizzy was found on the morning of 30 August with dozens of injuries after she was repeatedly stabbed at her stables on Northolt, north-west London.
She was found with cuts and slashes to her body, face and legs by her 16-year-old owner, Angel Reed.
Kizzy's injuries were so severe she was unable to stand when she was found by the family. Angel's mother Lisa Reed, 44, said that she feared that Kizzy would not survive because she was so badly hurt.
She told Get West London: "When my husband told me she had some cuts, I thought she had just got caught on something, I didn't really take notice.
"But when my daughter sent me some pictures, I just burst into tears - I couldn't believe it. When I arrived, the pony was lying down and I thought she was going to go, I thought she was a goner, she was shaking all over.
"I would love to see the people responsible for this caught. It's horrible and disgusting what they have done, it's absolutely sickening."
Another horse at the stables were also slashed across the back during the attack.
The family have released shocking photos showing the extent of the injuries to the pony as part of an appeal to find those responsible.
Angel's aunt Julie Radley said on Facebook: "Please, if anyone can help or has seen anything regarding the violence on my niece's horse.
"Some nasty b*****d got into the field on the Old Ruislip Road, Northolt, and done this. So sad that someone could do this to an innocent animal."
Metropolitan Police confirmed they are investigating the incident and no arrests have yet been made.