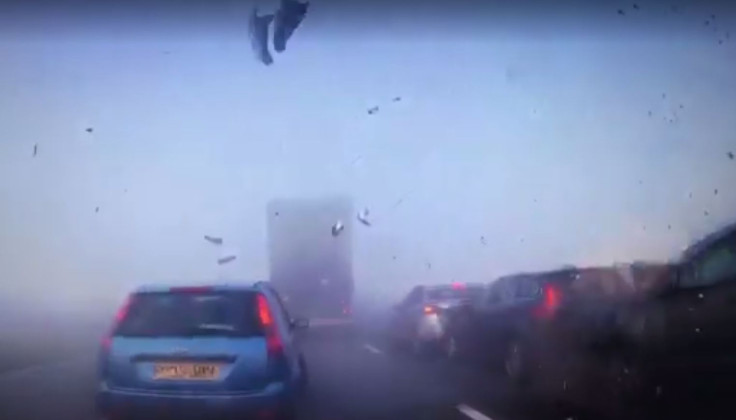 This is the heart-stopping moment motorists were blinded by a thick blanket of fog, causing an eight-car motorway pile-up.
Four people were taken to hospital after the multi-vehicle crash on the M65 westbound in Lancashire on Friday morning (1 September).
A dashcam video of the incident has since been posted online.
It shows motorists travelling at high speed suddenly surrounded by heavy fog.
Vehicles disappear from sight as the viewing distance is dramatically slashed, before a red haze from brake lights suddenly come into view.
As other motorists slow down a car to avoid a collision, a dark-coloured hatchback can be seen smashing into the rear of another, sending debris flying across the three carriages.
A white vehicle travelling at speed then careers between two other vehicles – smashing into their sides – before another is seen swerving in and out of stationary traffic.
A large heavy goods vehicle also comes into view and manages to stop just in time, before being rear-ended by another vehicle.
Astonishingly, no motorist were seriously hurt in the incident. Three men and a woman were taken to hospital with only minor injuries.
The husband of the woman whose car which captured the dashcam footage said he felt his wife "cheated death".
In a Facebook post alongside the footage, Chris Heys wrote: "Today i feel very fortunate that but for the grace of God this morning I almost lost the most precious jewel in my crown, my wife Leticia Heys."
He added: "The video below is the dashcam footage from her car that shows just how close she was to getting hit from behind with a big truck, if she hadn't moved her car onto the hard shoulder when she did the truck would undoubtedly have hit her.
"I'm sharing this because i feel so lucky to still have her and just want to say to everyone, please don't take your loved ones for granted (we all do it), you never know when you might not get to tell them you love them again."
A spokesman for the police said: "Eight vehicles had been involved in a collision westbound close to Junction 7.
"The air ambulance was initially called but it is believed those involved have suffered minor injuries."
All three lanes on the westbound carriageway were closed for around two hours.
A fire service spokesman said: "Four fire engines from Burnley and Hyndburn attended a road traffic collision involving several vehicles and one heavy goods vehicle.
"When firefighters arrived, one person was trapped inside one of the vehicles and firefighters used cutting equipment to release the individual who was later placed into the care of paramedics."