Would you exercise to earn your lunch? Well that's exactly what David Lloyd Clubs, in collaboration with the British Heart Foundation, have set up in Covent Garden, London. "Run for your Bun" serves healthy lunches, but doesn't take cash or card; instead its the world's first cafe that only allows its customers pay with exercise, in the form of a six-minute HIIT (High Intensity Interval Training).
According to new research by OnePoll, on behalf of David Lloyd Clubs, the average office worker spends 90% of their working day sitting down. That means in a typical year office workers could be spending approximately 1,578 hours (65.8 days) not moving. Moreover, almost a third of those with desk jobs (28%) will eat lunch at their desks every working day.
The Run for your Bun cafe has been set up to try and encourage sedentary city workers to fit a bit of exercise into their day. When you arrive at the cafe you place your order at the counter and receive a receipt with all the exercises you will be undertaking in your workout. These get checked off by the personal trainers as you complete them, and only once you've fully completed the checklist will get you your lunch!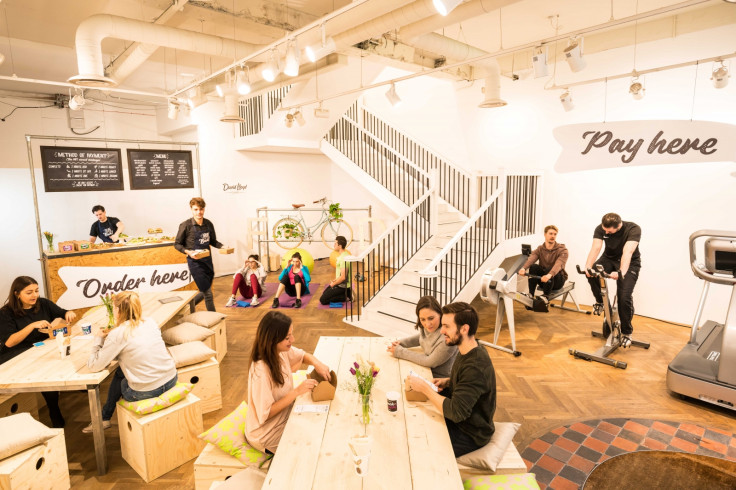 The six-minute workout at Run for your Bun consists of one minute of each of the following with a 30 second rest in-between: rowing, sit-ups, cycling on the spin bike, bodyweight squats, bodyweight lunges and jogging on the treadmill.
Aside from promoting their gyms and the benefits of a healthy lifestyle, Glenn Earlam, CEO of David Lloyd Leisure, told IBTimes UK that just making conscious choices to get moving when you can is better than being sat throughout the working day: "The important thing is is that you get up, and don't sit still for six hours, because it genuinely is quite bad for you. Just get up."
"When you can, when you're on that tube in the morning, walk up that escalator rather than just standing, just move. It's the little things."