Pope Francis was on a 27-hour visit to Egypt on Friday (28 April). This was the first visit by a papal to the African country in 20 years.
The 80-year-old pope said that he was visiting the country as a "messenger of peace".
During his trip, he visited a bombed Coptic Church, where over 20 people were killed during a suicide attack in December. The pontiff also attended a service with Coptic Christian leader Pope Tawadros II at St Peter and St Paul church in the capital city of Cairo.
The Pope was in the country on invitation of Sheikh Ahmed al-Tayeb, the current Grand Imam of al-Azhar – a 1,000-year-old seat of Islamic learning.
He also addressed the crowd present at the university, which aims to improve relations between Christian and Muslim community, and said spiritual leaders were "duty-bound" to expose such violence.
The pontiff also condemned the "rise of demagogic forms of populism" in his speech and added that it was important to "block the flow of money and weapons" that help in promoting violence in the "name of the sacred", the BBC reported.
Pope Francis' visit came during a time when Coptic Christians of the country are facing increased attacks by Islamic extremist groups.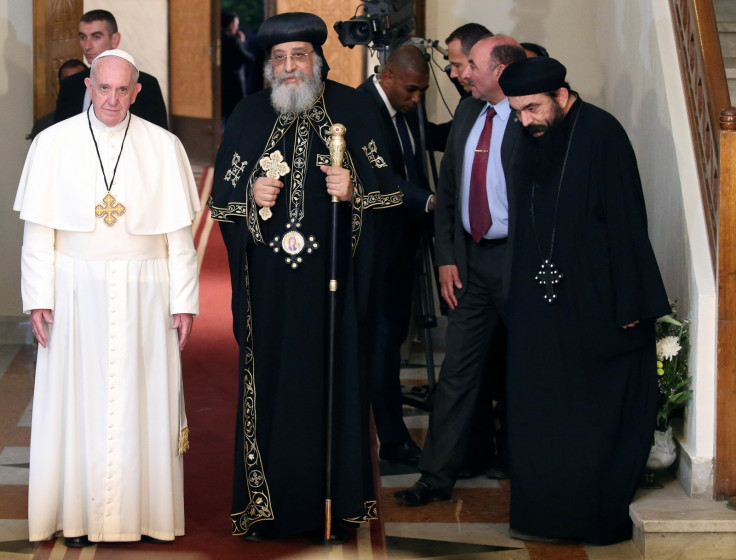 The Egyptian branch of Isis describes Christians as its "favourite prey" and claimed responsibility for the twin Palm Sunday bombings in early April, which killed more than 40 people.
The attacks have led to the declaration of a three-month state of emergency in Egypt and security has been tightened around churches.
Egypt's Coptic Christians have increasingly come under attacks since the ouster of the former president Mohamed Morsi in 2013. Militants and Islamists believe the Copts supported the military in overthrowing the Islamist president.