Pope Francis Hails South Korean Soldiers at Beatification Ceremony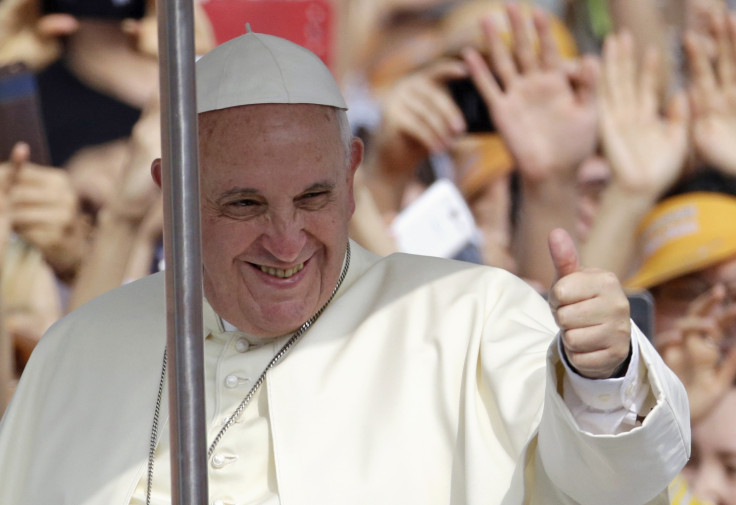 Pope Francis has beatified 124 South Korean Catholic soldiers at a ceremony in Seoul on the third day of his visit.
During a large open-air ceremony, the pontiff paid tributes to the troops, first-generation English Catholics, hailing their contribution.
"The legacy of the martyrs can inspire all men and women of good will to work in harmony for a more just, free and reconciled society, thus contributing to peace and the protection of authentically human values in this country and in our world," Francis said at the event at Gwanghwamun Square in central Seoul.
The soldiers were killed in the 18<sup>th and 19<sup>th centuries for their faith by Korean rulers, who were wedded to Confucianism.
About 170,000 Koreans and nearly 100 bishops were present during the ceremony. Beatification, or calling someone "blessed" by the pontiff, is a step away in the four-stage process in declaring them as saints as per the tradition of the Roman Catholic Church.
The pope said: "Their example has much to say to us who live in societies where, alongside immense wealth, dire poverty is silently growing and where the cry of the poor is seldom heeded.
"They challenge us to think about what, if anything, we ourselves would be willing to die for. If we follow the lead of the martyrs and take the Lord at his word, then we will understand the sublime freedom and joy with which they went to their death."
This is Francis's first visit to South Korea, where the Catholic belief system is rapidly growing, since he was made the pope.
Earlier in 1925 and 1968, popes had beatified South Korean soldiers, who were then canonised.
© Copyright IBTimes 2023. All rights reserved.