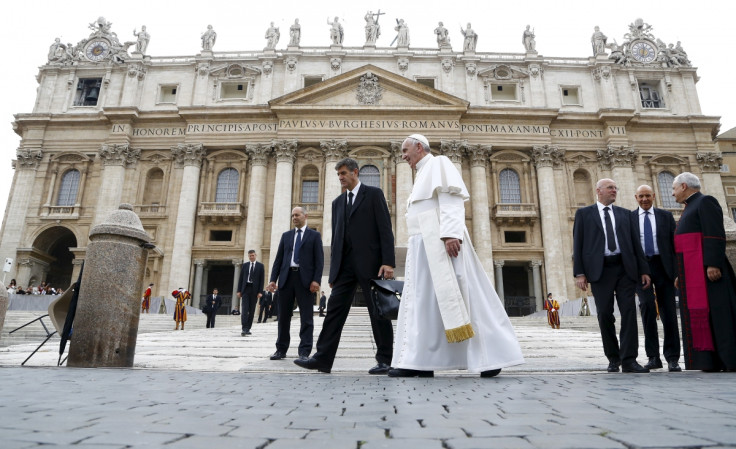 Pope Francis has issued an unexpected public apology for scandals "either in Rome or in the Vatican". The Catholic leader did not refer to any particular events, but reports suggest that it was an apparent reference to a Polish priest who was relieved of his Vatican duties after announcing that he was in a same-sex relationship.
"I would like to ask for forgiveness in the name of the church for the scandals that have happened in this last period both in Rome and at the Vatican," he said as his weekly general audience got underway in St Peter's Square on 14 October. "I ask you for forgiveness," Pope Francis said in front of thousands of gatherers, who applauded him for his remarks.
When asked about the comments by reporters, the Vatican spokesman admitted that Pope Francis' apology was "broad and generic" and that "it was not up to me" to interpret the Catholic leader's words. Father Federico Lombardi added that the pope wanted to extend a hand to followers who are "disturbed or pained" when they learn of the scandals caused by "the church or men of the church".
During his address, Pope Francis added: "The word of Jesus is strong today, woe to the world because of scandals. Jesus is a realist. He says it is inevitable that there will be scandals. But woe to the man who causes scandals."
Earlier this month, Father Krzysztof Charamsa, 43, was sacked after disclosing that he is gay and in a relationship with a male partner. The Polish priest said that he was "happy and proud" of his identity and appealed to the church to review its "backwards" approach to homosexuality.
On his blog, Vatican expert John Thavis suggested that the pope's apology may have referred to sexual abuse. "After his off-the-cuff remarks, he spoke in his regular audience talk about the place of children in the family," Thavis wrote. "Every child trusts that he or she will be loved, the pope said, and 'when that promise is broken, the result is a scandal which Jesus condemns'."
Since being elected in 2013, the pope has asked for forgiveness for children who have suffered sexual abuse at the hands of the clergy.