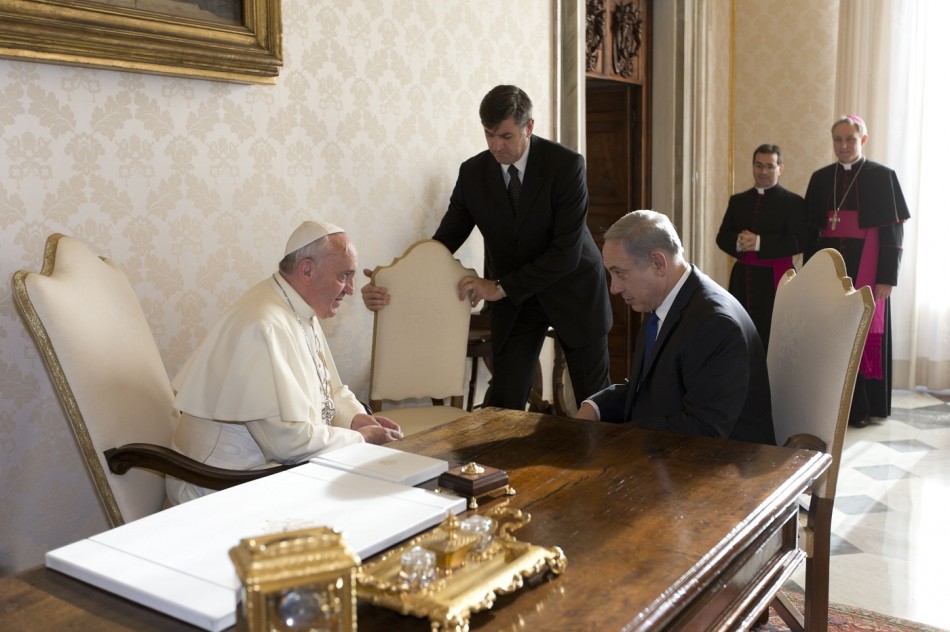 Pope Francis has urged Israel's prime minister Benjamin Netanyahu to bring peace talks with Palestine to a successful conclusion.
"During discussions, attention was focused on the complex political and social situation in the Middle East, with particular reference to the reinstatement of negotiations between Israelis and Palestinians, expressing hope that a just and lasting solution respecting the rights of both parties may be reached as soon as possible," the Holy See said.
During the 25-minute audience at the Apostolic Palace, the pontiff also told Netanyahu of his desire to visit the Holy Land, amid reports the trip could take place as soon as in spring next year.
"We are expecting you, we can't wait," Netanyahu's wife Sara told Francis after the meeting.
Francis had already been invited to travel to Palestine by the Palestinian leader Mahmoud in October.
Netanyahu gifted the Argentinian pontiff a Menorah and a book about Jewish persecution in the Spanish Inquisition written by his father, Ben-Zion Netanyahu, an Israeli historian who died last year.
The book bore the inscription: "To his Holiness Pope Franciscus, a great shepherd of our common heritage."