Expressing shame over the failures of the Church and humanity in protecting the dignity and lives of innocent people, Pope Francis called for the almighty's forgiveness during his Good Friday speech at Rome's Colosseum.
Wearing a plain white coat, he presided over the traditional evening Way of the Cross procession and later addressed the 20,000 people gathered at the place amid extremely tight security.
The pontiff said that their eyes were "lowered in shame" and hearts were "full of hope" because of "all those images of devastation, destruction, shipwrecks, that have become routine in our lives". He specifically mentioned the sexual abuse allegations against several Catholic Church clergymen and said that the shame was also "for all those times that we bishops, priests and other clergy scandalised" the church.
Referring to the migrant crisis in Europe, he said that hundreds of thousands of displaced people have endured hardships at the hands of human traffickers in attempts to reach European countries, but these nations have increasingly been rejecting their asylum pleas. He expressed grief over the loss of hundreds of lives lost while sailing to Europe through risky sea routes.
The Pope also voiced shame for "the innocent blood spilled daily by women, children, immigrants, and persons persecuted because of the color of their skin, or for the ethnic or social group they belong to, and for their faith" in Jesus, according to the Associated Press.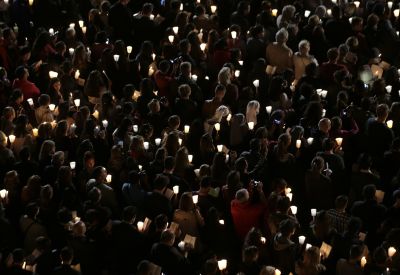 He concluded saying "that good will triumph despite its apparent defeat".
The events at the Colosseum took place amid tight security, considering the recent Isis attacks on Egypt's Coptic churches that killed over 40 people. Streets surrounding the Colosseum were reportedly closed to traffic, with armoured vehicles, bomb-sniffing dog squads and hundreds of security personnel guarding the area.
According to Reuters, some 3,000 police guarded the Colosseum and conducted strict security checks for the attendees of the event.
Francis is due to address an Easter vigil Mass in St Peter's Basilica on Saturday (15 April) and on Easter Sunday (16 April), he will read his twice-annual "Urbi et Orbi" ("To the City and the World") message in St Peter's Square.