Pope John Paul II secret letters: Pontiff's deep affection for Anna-Teresa Tymieniecka revealed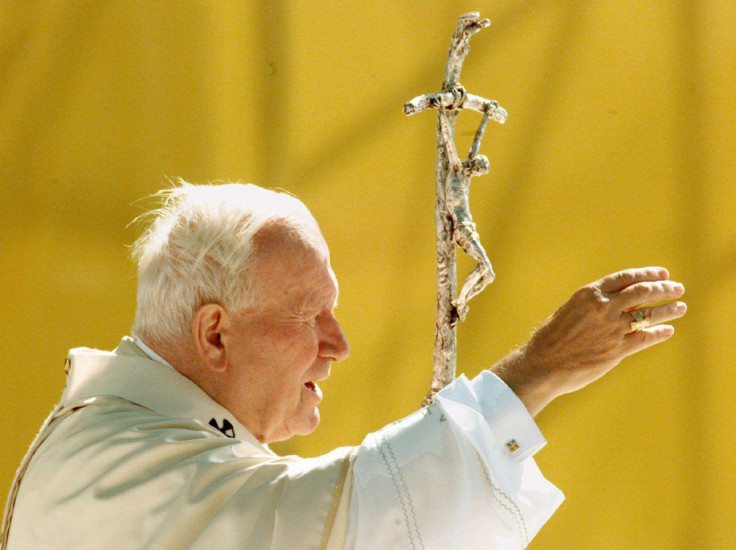 Letters shown to the BBC by the National Library of Poland have revealed an intense 30-year relationship between former Pope, John Paul II, and philosopher, Anna-Teresa Tymieniecka. There is no suggestion the late pontiff broke his vow of celibacy with Tymieniecka, a married woman.
The letters show the friendship through letters sent by the then-named Cardinal Karol Wojtyla, it is unknown whether the National Library of Poland also holds letters from Tymieniecka, though analysing Wojtyla's correspondence has led some to surmise that Tymieniecka professed her love for him around 1975.
Wojtyla became Pope John Paul II in 1978, after his predecessor lasted only 33 days in office. He died in 2005 and was canonised in 2014.
The pair began corresponding in 1973 after Tymieniecka contacted Wojtyla about his philosophy book. By 1974, the relationship seems to have become more intense as Wojtyla wrote that he was re-reading four of Tymienicka's "meaningful and deeply personal" letters.
The letters also show that Wojtyla gave Tymieniecka his scapular - a Christian garment worn over the shoulders, a gift from Wojtyla's father to mark his first Holy Communion. In 1976, he wrote: "Already last year I was looking for an answer to these words, 'I belong to you', and finally, before leaving Poland, I found a way - a scapular. The dimension in which I accept and feel you everywhere in all kinds of situations, when you are close, and when you are far away."
Anna-Teresa Tymieniecka was a Polish-born philosopher and academic who founded the World Phenomenology Institute. She moved to America in the 50s and died in New Hampshire in 2014, aged 91.
Tymieniecka was not the only long-standing female friend that Wojtyla had but the intense emotions contained in their exchanges suggest the relationship was more significant and revealed a different side to a Pope who became a significant global figure in the late 20th century.
© Copyright IBTimes 2023. All rights reserved.