The leaders of the Roman Catholic Church and the Russian Orthodox Church have held historic talks in Cuba — the first meeting of its kind in nearly 1,000 years. Pope Francis embraced and kissed Patriarch Kirill at the start of the talks in a room at Havana airport on 12 February, symbolising the recent warming of relations between the two churches.
The schism between the Eastern Orthodoxy and Roman Catholicism is one of the longest religious disputes in history, with the two churches splitting along theological, political and geographic lines in 1054. Pope Francis is the leader of 1.2 billion Catholics around the world, while the Russian Orthodox Church has an estimated 150 million members.
The pope was overheard to say, "Brother" and then "Finally", with the patriarch replying "I'm happy to greet you, dear brother". "It is very clear that this is the will of God," Francis was quoted as saying by the Reuters news agency.
The historic meeting was only announced a week ago in what the Vatican described as a "neutral place" in Cuba, where Patriarch Kirill, 69, is on an official state visit. Pope Francis, 79, stopped at Jose Marti international airport on his way to a six-day trip to Mexico.
Christian unity
After holding talks for two hours, Pope Francis and Patriarch Kirill called for unity between the two churches and appealed for the protection of Christians in the Middle East. "In many countries of the Middle East and North Africa whole families, villages and cities of our brothers and sisters in Christ are being completely exterminated," a joint statement read.
"Their churches are being barbarously ravaged and looted, their sacred objects profaned, their monuments destroyed. It is with pain that we call to mind the situation in Syria, Iraq and other countries of the Middle East, and the massive exodus of Christians from the land in which our faith was first disseminated and in which they have lived since the time of the Apostles.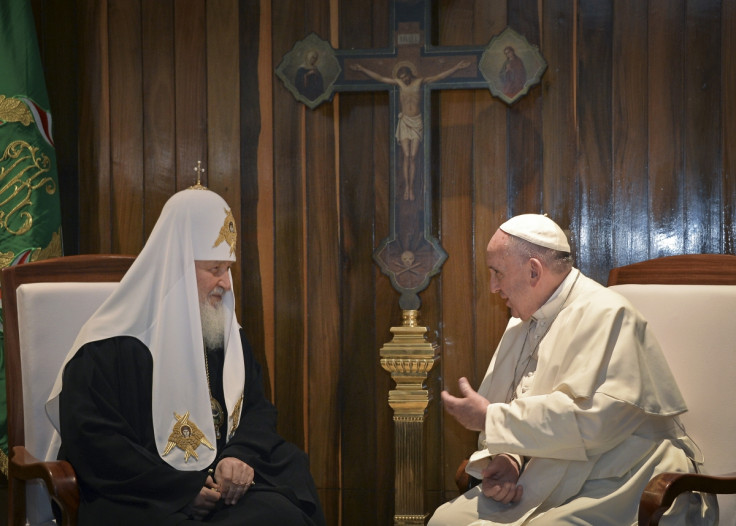 "We call upon the international community to act urgently in order to prevent the further expulsion of Christians from the Middle East."
Analysts said the meeting between the two religious leaders would not have been possible without the sanction of Russian President Vladimir Putin. "Russia is now being criticised by the West and the Arab world for its position on Syria, and so any societal forces that won't condemn Russia are useful to it," Alexei Makarkin of the Moscow-based Centre for Political Technologies was reported as saying by the Guardian.
"[Pope Francis is] not an ally of Russia, but his argument for the protection of Christians can be used by Russia to justify its campaign in Syria," he added.