Pope Passes 1m Followers on Twitter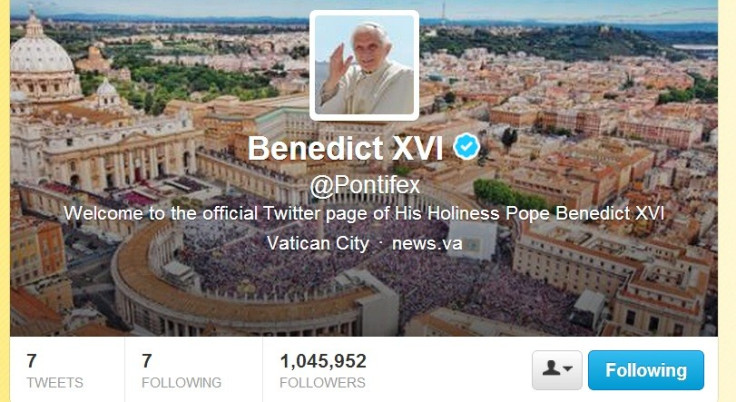 The Pope has crossed a major digital frontier by passing 1 million English-language followers on microblogging site Twitter.
The real number of Twitter users following the head of the Roman Catholic Church is actually higher, when the seven other Twitter accounts using the Pontifex username in different languages are factored in.
English is by far the most popular of the languages employed, but some users have called for papal tweets to be propagated in Latin.
In Europe the strongest sign-up has been in Italy, in which the Vatican city state is located. In the UK, the Republic of Ireland has seen the strongest sign-up by Twitter users.
Sign-up in places such as Saudi Arabia and Papua new Guinea has been surprisingly strong. In Africa, sign-up has been strongest in Democratic Republic of Congo.
The first tweet was sent from the Pontifex account on Wednesday (December 12), around the same time as the following reached 1 million. Perhaps predictably, the first tweet was a blessing.
Dear friends, I am pleased to get in touch with you through Twitter. Thank you for your generous response. I bless all of you from my heart.

— Benedict XVI (@Pontifex) December 12, 2012
In the six tweets which followed, three were questions - perhaps not what many followers would expect from a Pontiff with Papal infallibility to whom followers turn in search of answers.
There has been plenty of criticism from fellow Twitter users using #pontifex, which centred on the sexual abuse scandals which have rocked the Catholic Church in recent years.
Pope Benedict XVI still has a way to go to catch up with Lady Gaga, who is currently the world's most-followed tweeter with 32 million devotees.
Benedict XVI will not be tweeting personally, but gives each message the seal of approval before it is published. The word pontifex means bridge or path-maker. The Twitter username, or handle, 'Pope' is owned by a web developer in the United States.
© Copyright IBTimes 2023. All rights reserved.