Harry and Amelia were the most popular baby names for children born in England and Wales last year, maintaining the respective top positions they earned in 2011.
The Office for National Statistics found that Amelia was the most popular name in all regions, while Harry was most popular in seven out of the nine regions in England. Jack was most popular in the North East, while Muhammad was the most popular name for boys in London.
In Wales, the most popular boys name was Jacob, with Harry finishing in sixth place.
Mia and Isla replaced Ruby and Grace in the top ten most popular names for girls, climbing from 13<sup>th and 15<sup>th places to seven and eight respectively.
The other girls' names in the top ten are Olivia, Jessica, Emily, Lily, Ava, Sophie and Isabella.
Along with Harry and Riley, the top ten boys' names were Oliver, Jack, Charlie, Jacob, Thomas, Alfie, William and James.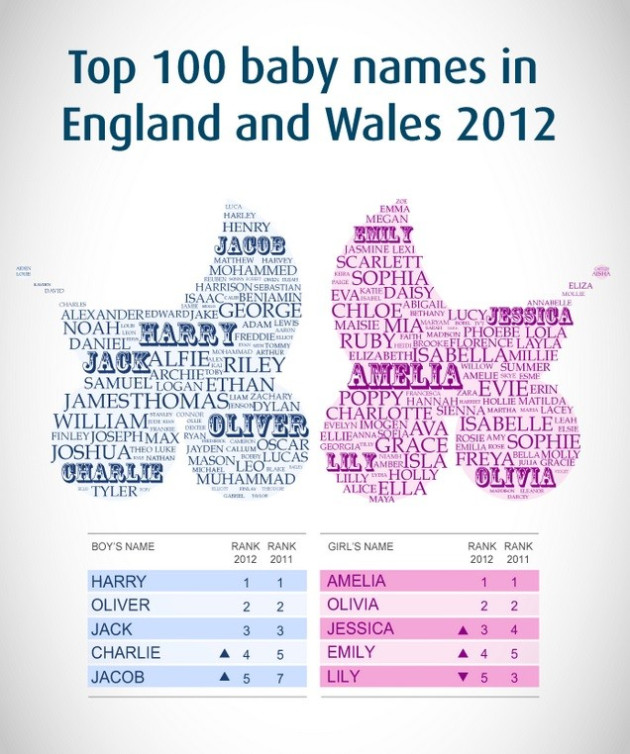 New entries to the list for boys were Hugo, Sonny, Seth, Elliott, Thodore, Rory and Ellis, while girls names added were Elsie, Mollie, Ivy, Darcey, Tilly, Sara and Violet.
Falling out of the top 100 names were Joel, Hayden, John, Ashton, Jackson, Ben and Reece. For girls Lexie, Lauren, Rebecca, Tia, Nicole and Kayla all dropped out.
A statement from the ONS said: "There are a number of possible reasons why the popularity of baby names can change over time. The popularity of names can be influenced by names of famous figures or current celebrities and what they name their own babies.
"However, it is an individual choice which can be influenced by a number of other factors such as the religious, cultural and/or ethnic identities of the parents or the names of family, friends or fictional characters.
"As such, there is a great diversity of baby names. In 2012, there were 729,674 live births in England and Wales (ONS, 2013), with over 28,000 different boys' names and over 36,000 different girls' names registered. The top 10 names only account for 13% of all names in 2012."