Portugal Political Crisis Prompts Bailout Review Delay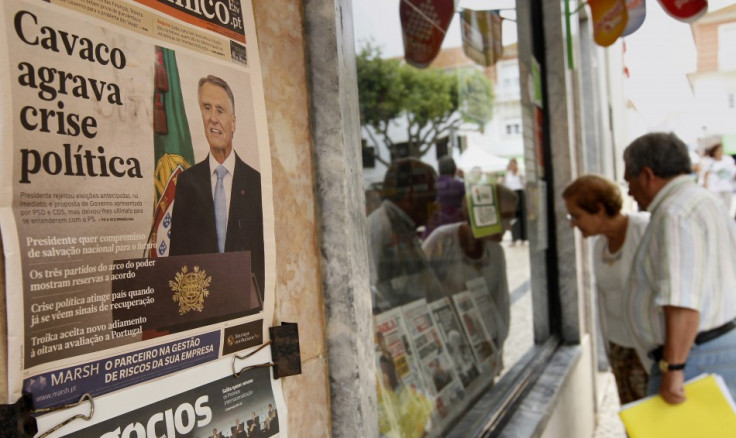 Portugal's beleaguered government has been given vital respite after the country's international leaders agreed to delay a mandatory bailout review by one month.
The Troika - which comprises the European Commission, European Central Bank and International Monetary Fund - was initially due to start its eighth review of the Portuguese economy on 15 July, to assess whether the Lisbon government had implemented austerity measures agreed as part of its €78bn (£67bn, $102bn) rescue package.
However, according to a statement from the Portuguese Finance Ministry, the eighth review will now start at the end of August. It will effectively be rolled into the ninth appraisal, which begins in early September.
Portugal's political instability has drawn serious concern across the rest of the Eurozone, after a raft of ministerial resignations threatened to undermine the country's attempts to gain financial credibility.
At the beginning of May, Prime Minister Pedro Passos Coelho announced a set austerity measures to generate savings of about €4.8bn by 2015.
Two months later, foreign minister Paulo Portas resigned, only 24 hours after influential finance minister Vitor Gaspar quit his job.
Portas presented his 'irrevocable' resignation to Passos Coelho, after expressing his deep discontent with Gaspar's replacement Maria Luis Albuquerque.
"This delicate situation requires a great sense of responsibility from all political forces and leaders," said president of the European Commission José Manuel Barroso in a statement, only a day after the resignation.
"The political situation should be clarified as soon as possible. We trust that Portuguese democracy will deliver a solution ensuring that the sacrifices the Portuguese people have made until now will not have been in vain."
'Igniting a Time Bomb'
Portugal's political crisis deepened this week when President Anibal Cavaco Silva rejected a plan that could heal a government rift.
Instead, he proposed a cross-party agreement between the ruling coalition and opposition Socialists to guarantee wide support for his imposed austerity measures.
The move prompted sharp criticism in a country that has descended into its worst economic slump since the 1970s and the domestic media and analysts accused him of igniting a "time bomb" by also calling for early elections in 2014.
"The president of the republic decided to overcome the political stalemate between the parties in the ruling coalition by adding another problem to the one that already existed," said an editorial in the daily Portuguese newspaper Publico.
"He decided to take power."
Analysts at Espirito Santo Research said in a note that "after the turmoil of last week when it seemed a solution had been found, the announcement of the president comes as a surprise."
© Copyright IBTimes 2023. All rights reserved.