On Sunday 4 October, Portuguese voters will cast their verdict on Prime Minister Pedro Passos Coelho's management of the country's austerity programme. It is starting to pay off despite debt remaining high but will voters hold their patience with him?
No strong anti-austerity party
Portugal was poorer than Greece until a year ago, and has already been through its own bailout in 2014, after becoming the third eurozone country to be rescued in 2011 after Ireland and Greece. Yet, unlike their Greek counterparts, Portuguese voters have no strong anti-austerity, anti-EU party to turn to in the upcoming general elections. Instead, opinion polls show voters are willing to hang in with Portugal's incumbent conservative (PàF) coalition, which imposed stringent cuts and tax increases.
Costa's Socialists failed to woo voters
In the absence of an anti-austerity party capable of disrupting the Portuguese political landscape, 54-year-old Socialist leader Antonio Costa in May vowed to resist the austerity demands from the EU creditors. Costa, who is said to be more popular than the Socialist party that he leads, claimed that the Coelho's austerity measures were far greater than the terms of the €78bn (£65.3bn, $88bn) bailout deal initially negotiated between the former Socialist government, the EU and the IMF.
Yet, despite insisting he would "carry out a reverse policy", the socialist leader seems to have been unable to exploit the growing discontent with the last four years of painful austerity policies. Costa's inability to grasp votes may be linked his ambiguous campaign message. He tried to reassure cautious voters by speaking of moderate reforms, but used a more radical-based rhetoric to charm members of the Portuguese Communist Party (PCP) or the Left Bloc (BE), a Syriza affiliate.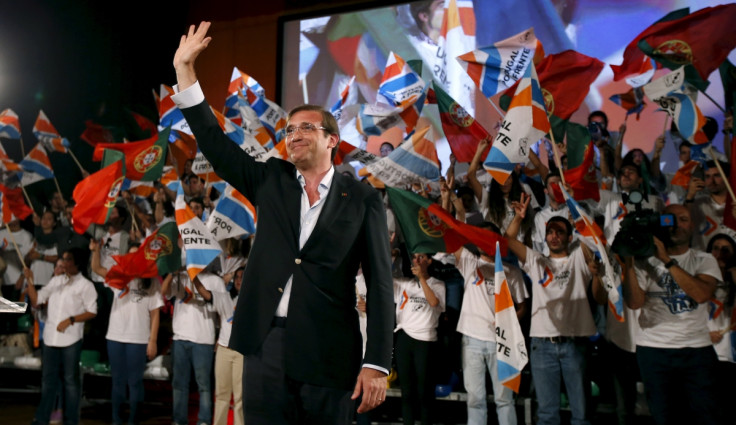 Heading for a political deadlock?
Coelho's government was indeed given a widening lead (39.7%) over the Socialist (PS) opposition (31.6%), according to an average of four polls published on 30 September, but the party looks likely to lose a majority of the 230 seats in the Assembleia da República − its parliament.
A Lisbon think-tank, the Francisco Manuel dos Santos Foundation, this week described Coelho's potential loss of a parliamentary majority as a "political crisis", highlighting likely difficulties for the next government to "approve a budget for 2016". This was not the case in 2011, when the government came into power: it quickly beefed up taxes, and proceeded to cut salaries, public services and pensions.
Fragile economic recovery
If faced with a political gridlock this time round, Coelho, 51, could find it hard to defend his record of post-bailout reforms. But although unemployment still remains extremely high − 12% but reaching 30% among 16 to 24 olds − Coelho's government has not failed to point to the fact the reforms have curtailed the unemployment rates by 5%. Another positive for Coelho is the economy, which has recorded five quarters of uninterrupted growth in June for the first time since the 1990s.
The results on 4 October will provide a good indication of whether a weakened administration may impede Coelho's goal to plug new reforms he says are essential to consolidate an economic recovery. After all Portugal remains a country where a fifth of workers have an average income of less than €5,000 (£3,684) per year and live below the poverty line.