Nokia's high-end Windows Phone 8.1 running Lumia 930 is now up for pre-order with the retailers in the UK.
As Nokia promised, Microsoft will run a promotional offer from 17 to 31 of this month and it will bring users a few accessories and apps from Windows Store costing £130 for free. For every Lumia 930 pre-order, retailers are offering freebies for the aforementioned amount.
High-street retailer Carphone Warehouse is taking pre-orders for Lumia 930, available on contract with O2 and Vodafone, with £100 cashback and Nokia wireless bundle worth £130 for free.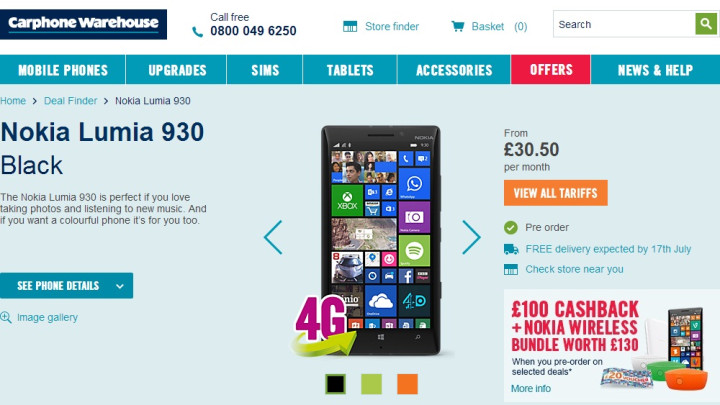 Coming back to the tariffs, Vodafone is charging £30.50 per month for the Lumia 930 with the deal including 300 minutes, unlimited texts and 250MB 3G data free.
O2 customers will have to pay £33 a month. The deal covers unlimited minutes and texts with 1GB 4G data for a contract of 24 months. Besides, the SIM-free Lumia 930 with all three colours options can be pre-ordered at Carphone Warehouse with a suggested retail price of £479.95.
Online retailer Clove will also sell Lumia 930 when it becomes available in the UK. Currently, users can place their pre-order for the handset. Prospective buyers will have to pay £435 for pre-ordering the Lumia 930 at Clove, which is offering free promotional bundle worth £130.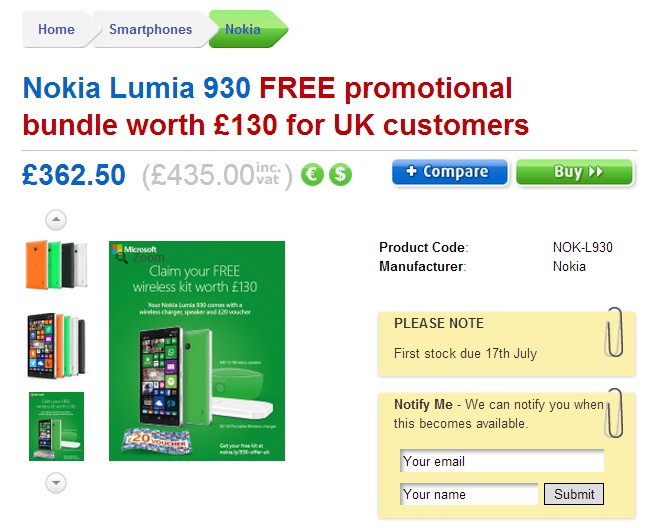 Both Carphone Warehouse and Clove have noted that the Lumia 930 stocks are expected on 17 July. Expansys has also confirmed pre-order for Lumia 930 in all three colour variants at £449.99. Below are the pre-order links for Lumia 930.
Pre-order Lumia 930 at Carphone Warehouse. Click here to know more about the tariffs from carrier networks for Lumia 930
Pre-order Lumia 930 at Expansys